Tokyo is one of the world's best food destination. From century old eateries serving traditional food to top rated restaurants known for their fusion cuisine. There is always something for everyone on the menu. Don't even get me started on the street food.
Last winter, The Daily Phil had a stopover in Tokyo for 24 hours before heading to Sapporo. We made the most out of our time here and checked out some of the trending food places that we discovered on social media. Coincidentally, all three of them offer something BIG! Big in Flavor, Big in Value and Big in size! Let's eat!
---
Big in Flavor
Garlic Butter Fried Chicken Ramen at Oreryu Shio Ramen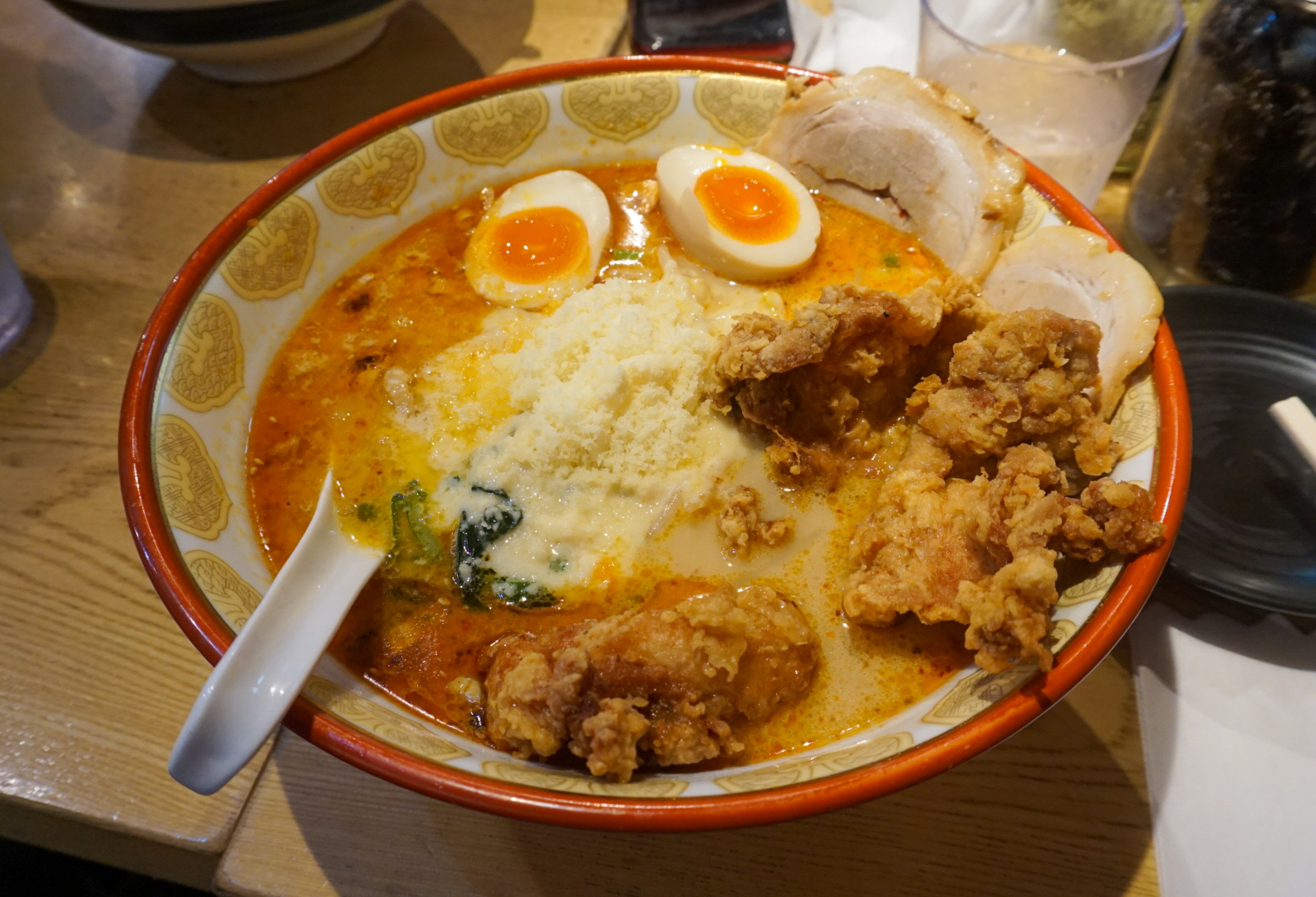 After checking in at our hotel, John and I met our Japanese friend at Shibuya Crossing then walked our way for about 5 min to our first stop, Oreryu Shio Ramen. A couple of months ago, a video on Facebook about this Ramen shop caught my attention and I promised myself that I will give it a try once I return to Japan and here we are.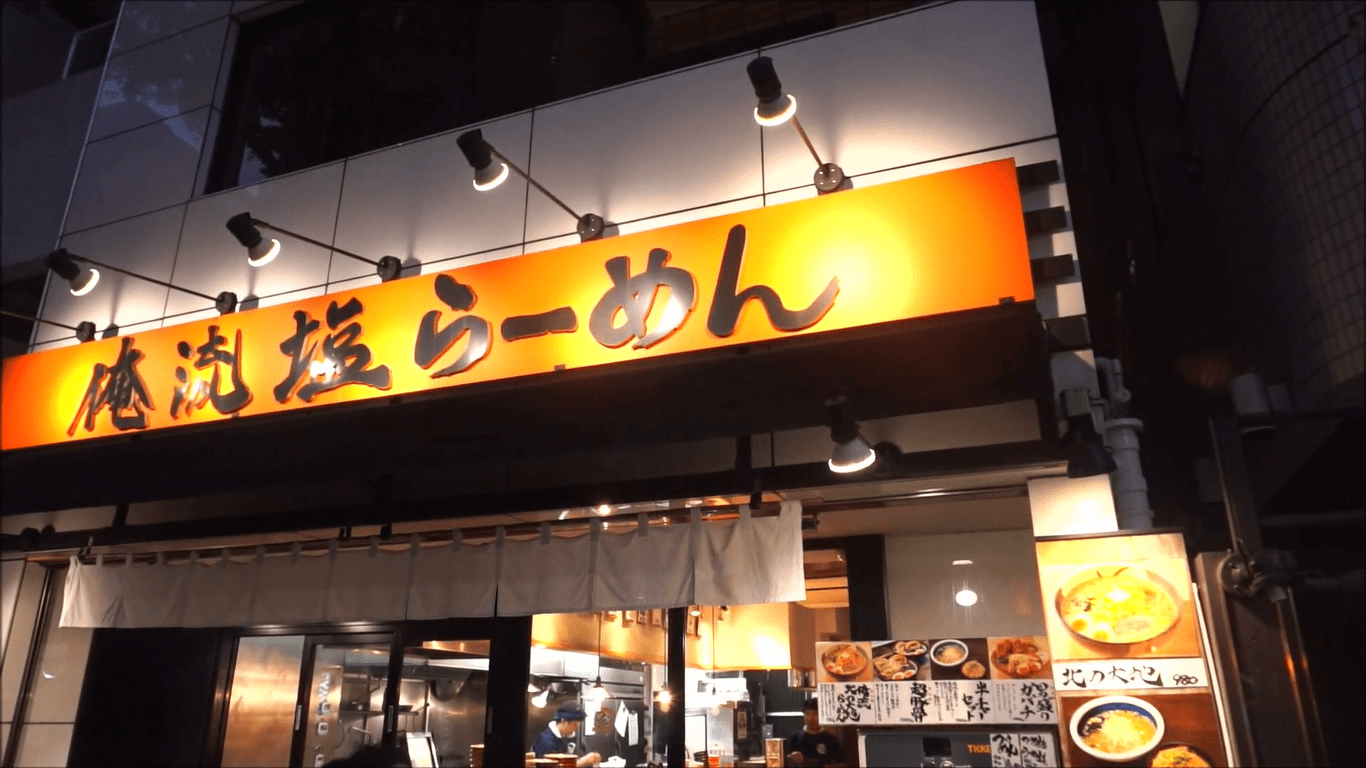 We ordered their most famous bowl, Garlic Butter Fried Chicken Ramen. It is basically a salt based (Shio) Ramen loaded with crazy toppings which includes three huge chunks of crispy Karaage, 2 generous slices of Pork Char Siu, stringy Mozarella cheese and heaps of grated Parmesan cheese for only JPY 1,000.00. This is definitely not your traditional Ramen and more of an East meets West kind of dish.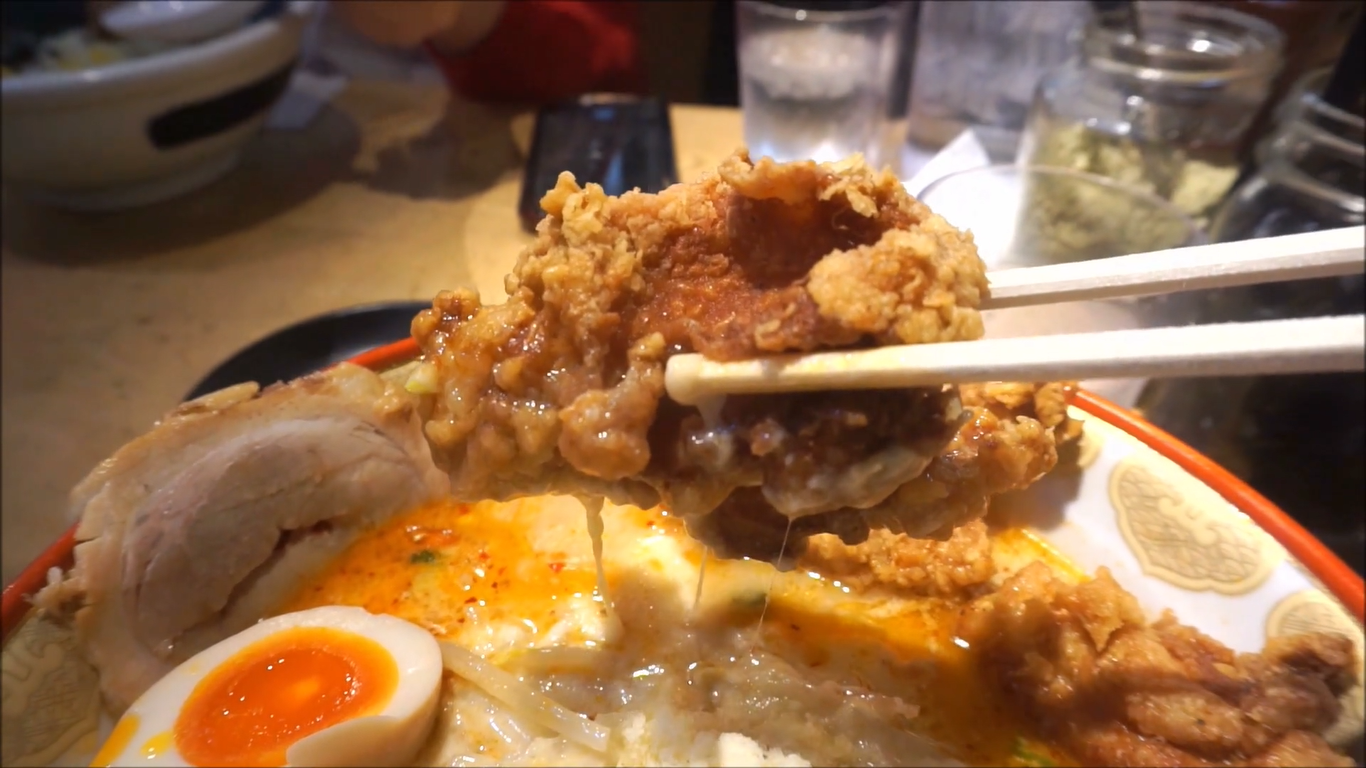 The Shio broth is light but turns rich as you mix in the Parmesan cheese. Hokkaido butter is also added for more richness and depth. I was surprised to get a slight hint of spice. Later, I saw some bits of garlic and chili flakes at the bottom of the bowl which explains the heat. The noodles were as usual springy and chewy.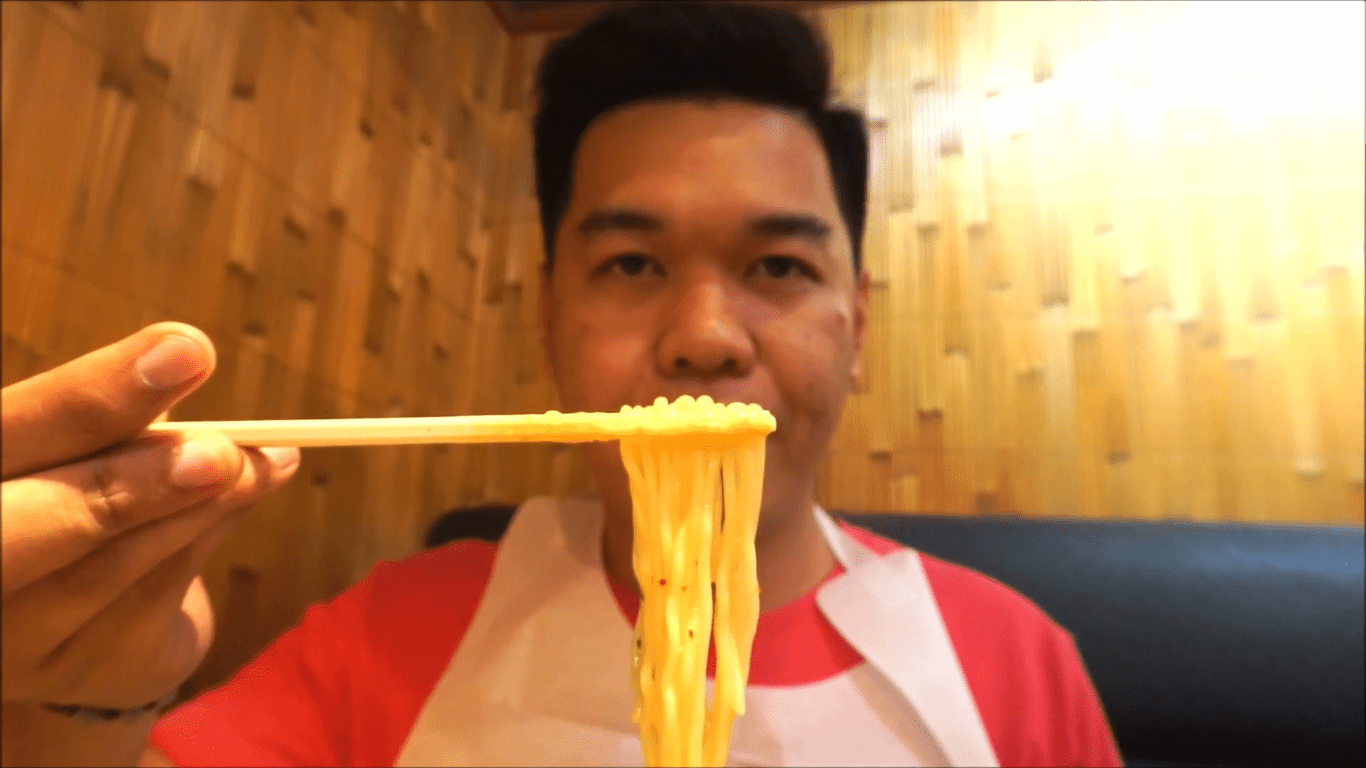 The Char Siu was alright but was overshadowed by the crispy and juicy Karaage that tasted a little bit citrusy. Others might find this bowl a bit overwhelming with its massive serving. I personally struggled finishing the whole thing so make sure you come here with an empty stomach. The three of us had a great food experience overall. However, Fukuoka's Tonkotsu Ramen specifically the one we had in Genki Ippai remains number one in my heart.
The Verdict: 4.0 / 5.0
Address: 1 Chome-22-8 Dogenzaka, Shibuya City, Tokyo 150-0043, Japan
Operating Hours: 11:00 am – 6:00 pm
---
Big in Value
Unlimited Sashimi at Taiko Chaya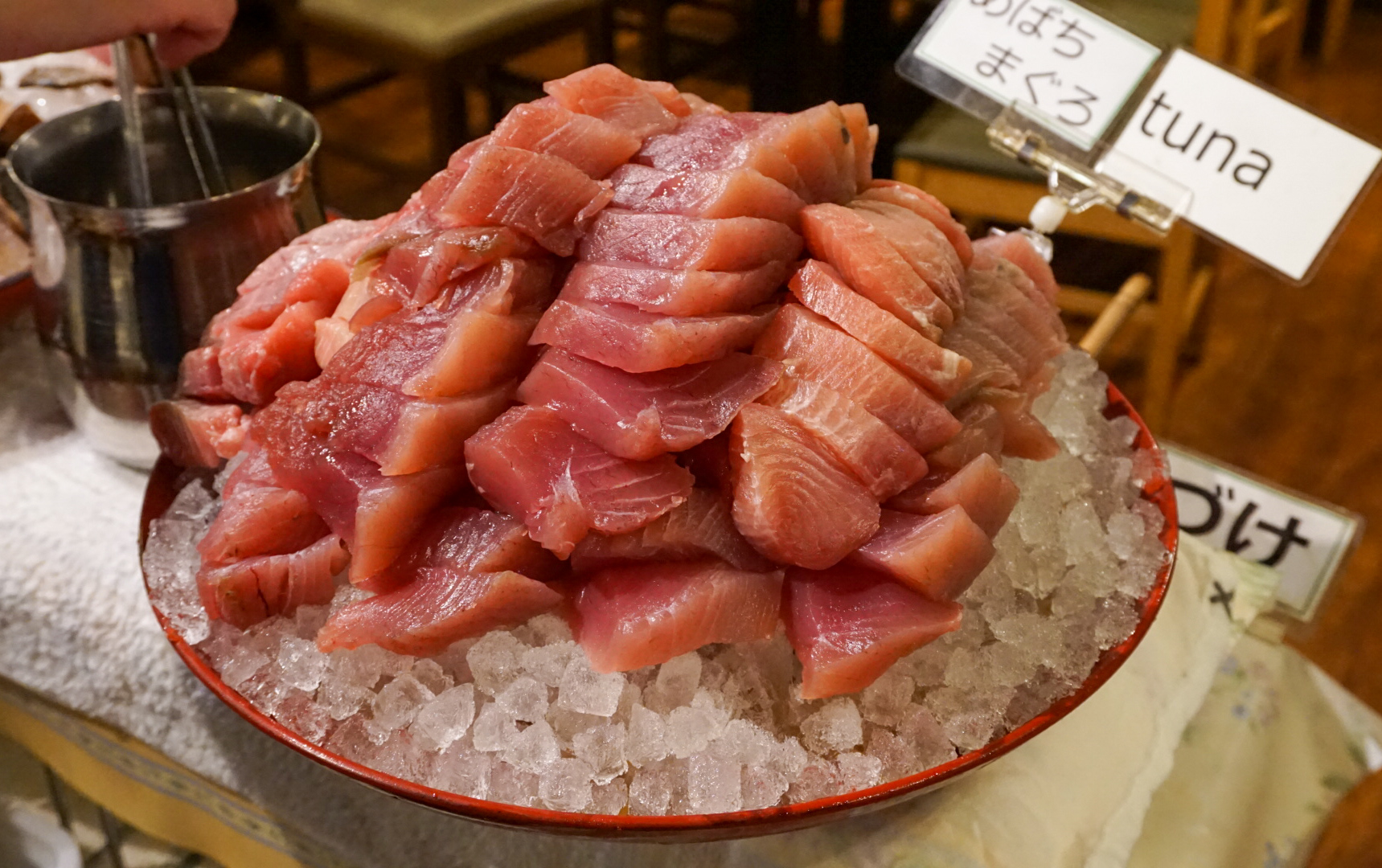 The next morning we visited Meiji Jingu to enjoy the autumn leaves. Afterwards, we went to Taiko Chaya for an All You Can Eat Sashimi. I am really not that obsessed with raw seafood but because I want to have an authentic Japanese food experience, we tried this restaurant anyways. On the other hand, Sushi and Sashimi are some of John's favorite food so when I learned about this place, I knew we will be here today.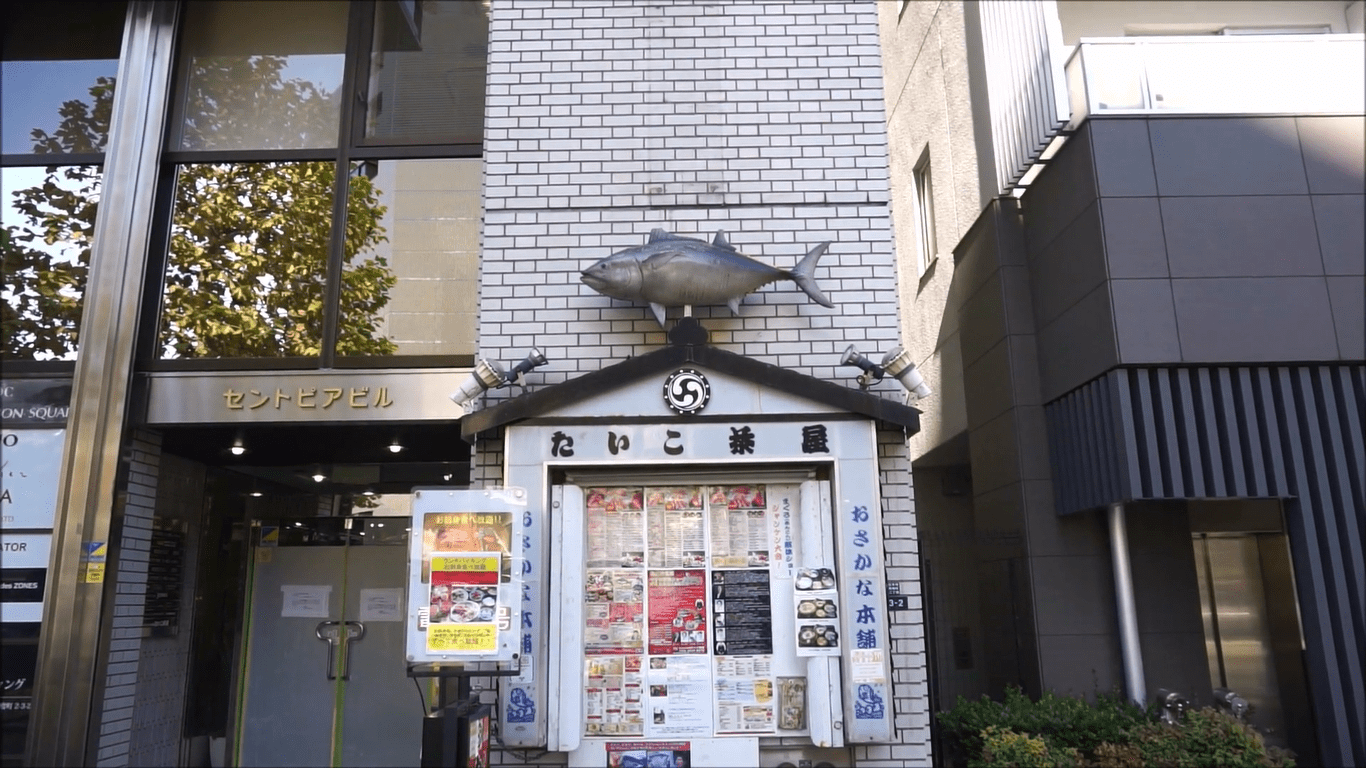 Mountains of Tuna, Ebi, Salmon and Bonito piled up in huge ice bowls welcomed us as we were escorted to our table. Other seafood items offered include scallops, crab sticks, squid and fatty tuna. You can also get rice, miso soup, salads, cooked seafood dishes and even dessert as much as you like. Lunch rate is at JPY 1,500.00 with a 50 minute time limit which I think is fair enough.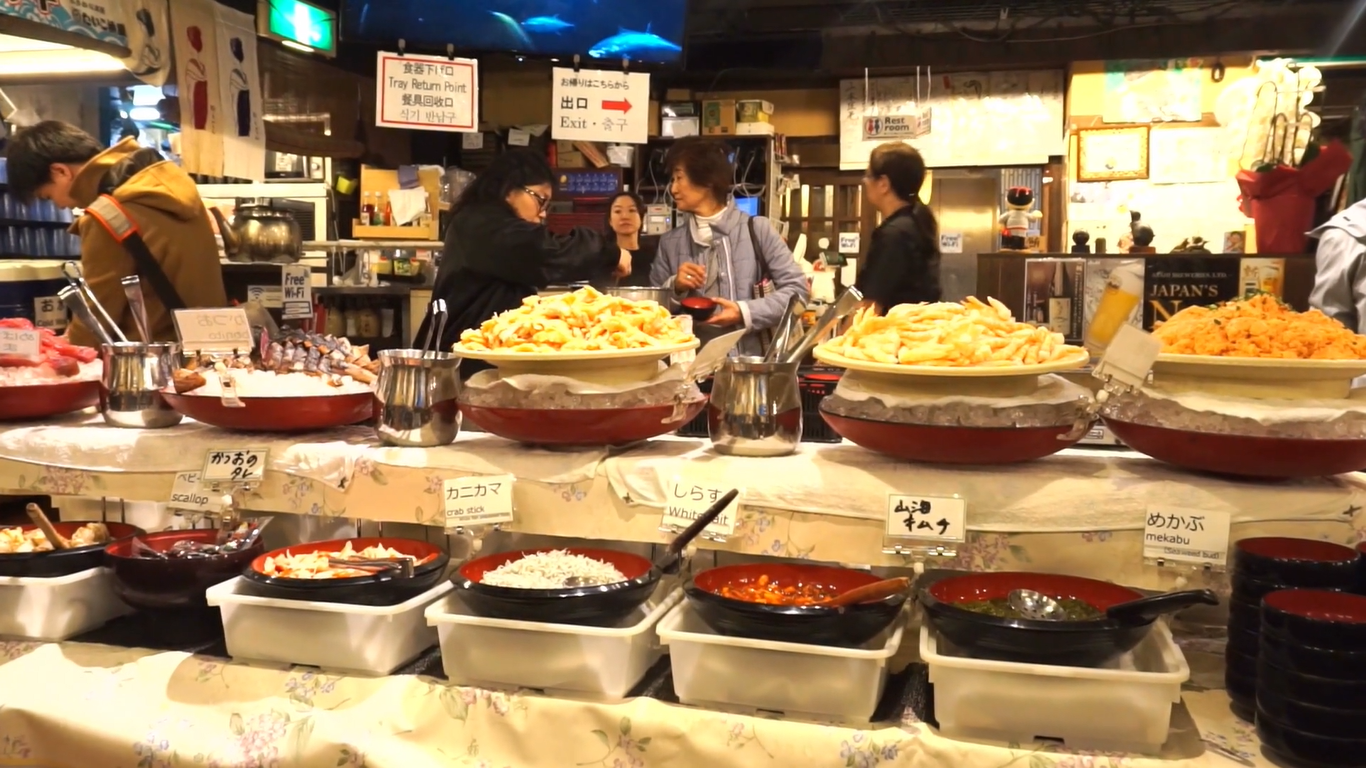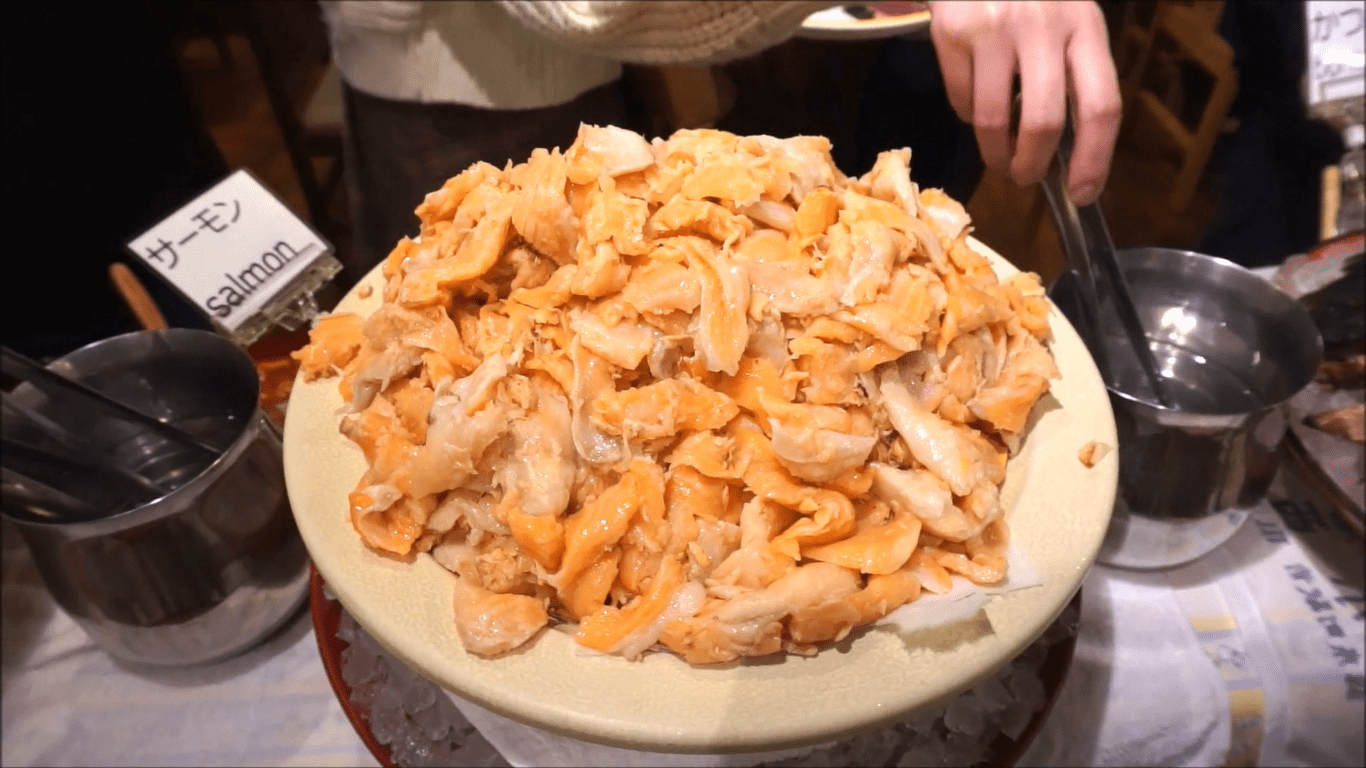 My favorite would have to be the Bonito as it gives you the best of both worlds. Its smoky, lightly charred exterior combined with the refreshing, delicate fillet is amazing.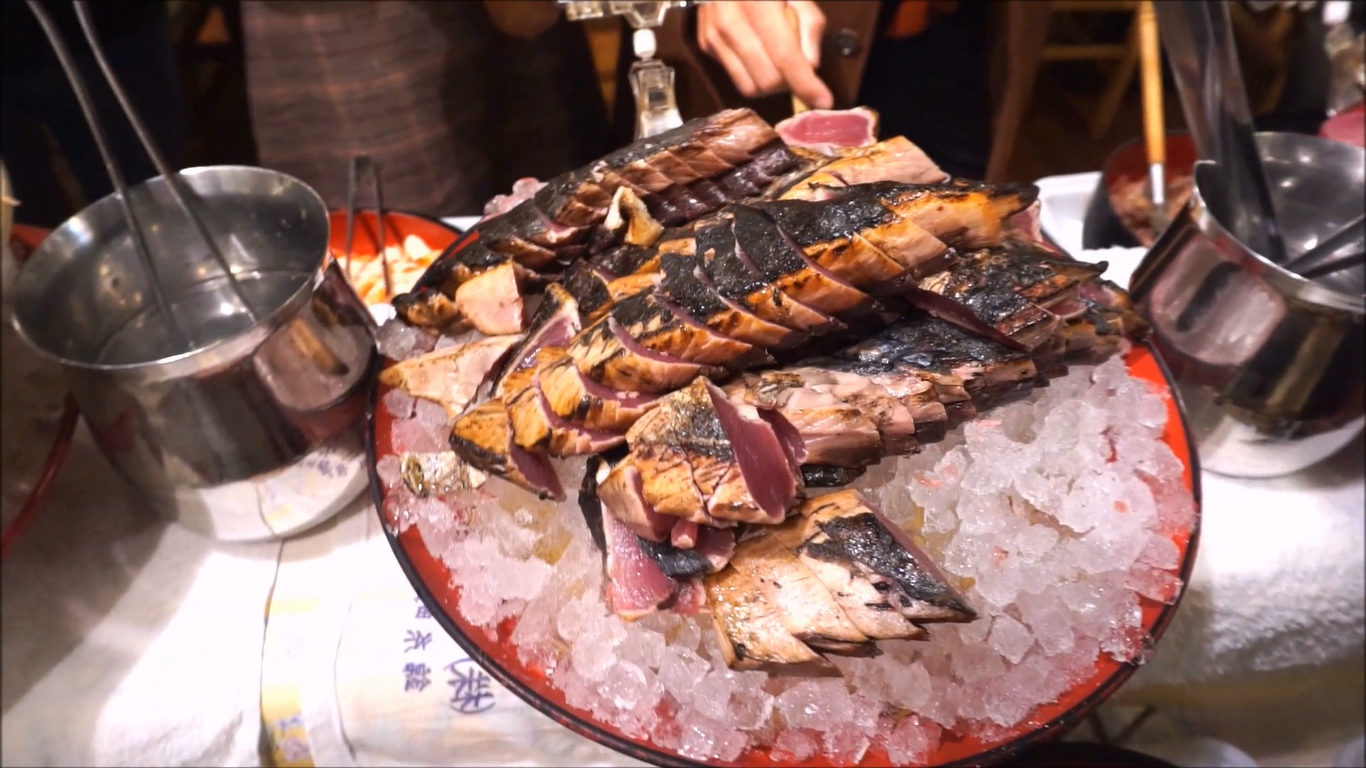 John made the most out of the experience by making sure his plate is full after every trip to the buffet table. The restaurant opens at 11:00 am but try to come here an hour in advance to get a reservation ticket as the queue for walk in customers can get really long.
The Verdict: 5.0 / 5.0
Address: Japan, 〒103-0002 Tokyo, Chuo City, Nihonbashibakurocho, 2 Chome−3−2 セントピアビル B1
Operating Hours: 11:00 am – 1:20 pm; 5:00 pm – 9:50 pm
---
Big in Size
Grand Slam Curry at Go! Go! Curry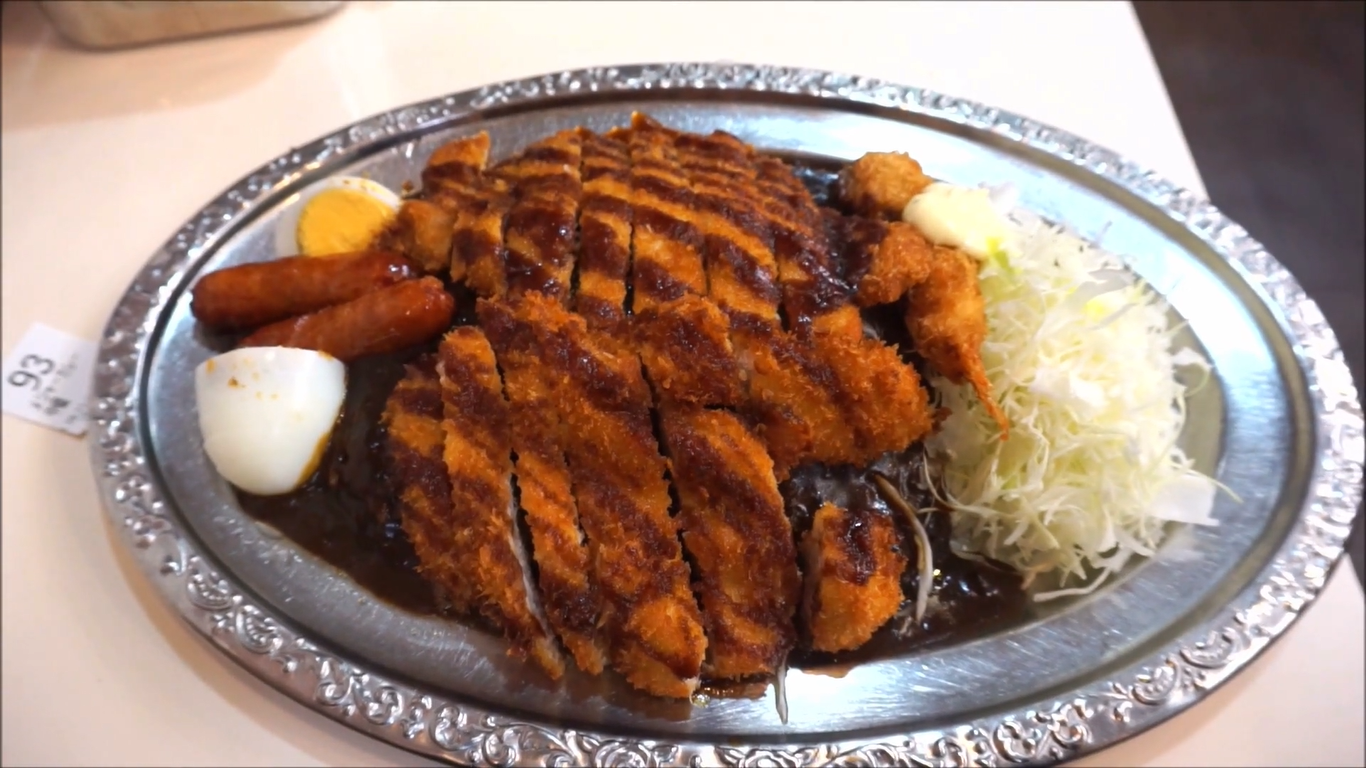 In the afternoon, we dropped by Ameyoko before picking up our luggage in the hotel. Ameyoko is a market street filled with shops selling street food, souvenir items, traditional Japanese snacks, spices and even seafood.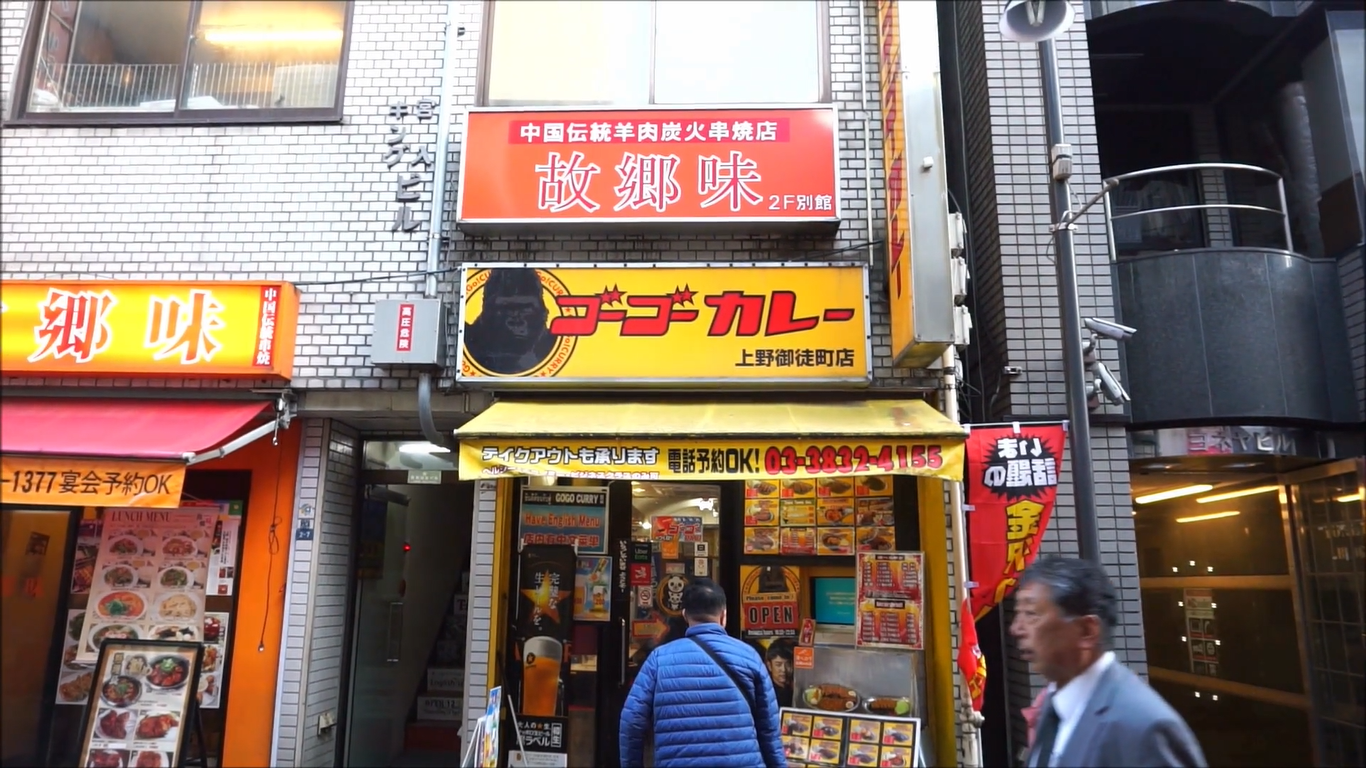 After shopping, we decided to have dinner at Go! Go! Curry, a popular fast food chain in Tokyo known for Curry Rice. We ordered the Grand Slam Curry which is composed of Chicken and Pork Tonkatsu on a bed of white rice smothered with Curry sauce for JPY 1,100.00. Add ons include eggs, cheese, shrimp tempura and sausages among others.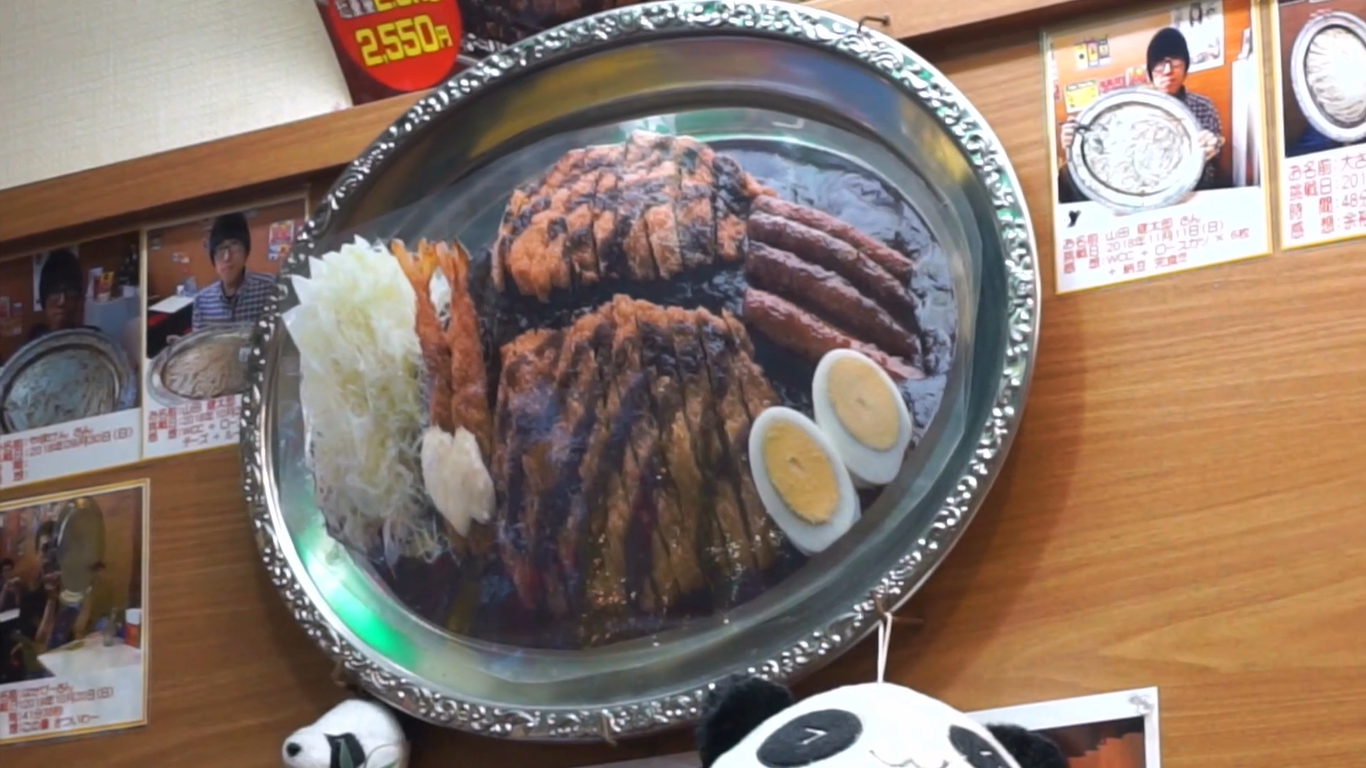 The original plan was to order the biggest item on the menu, World Champion Curry. It's served on a plate that's as big as a tray. We were still full from Taiko Chaya and so we went for the Grand Slam instead.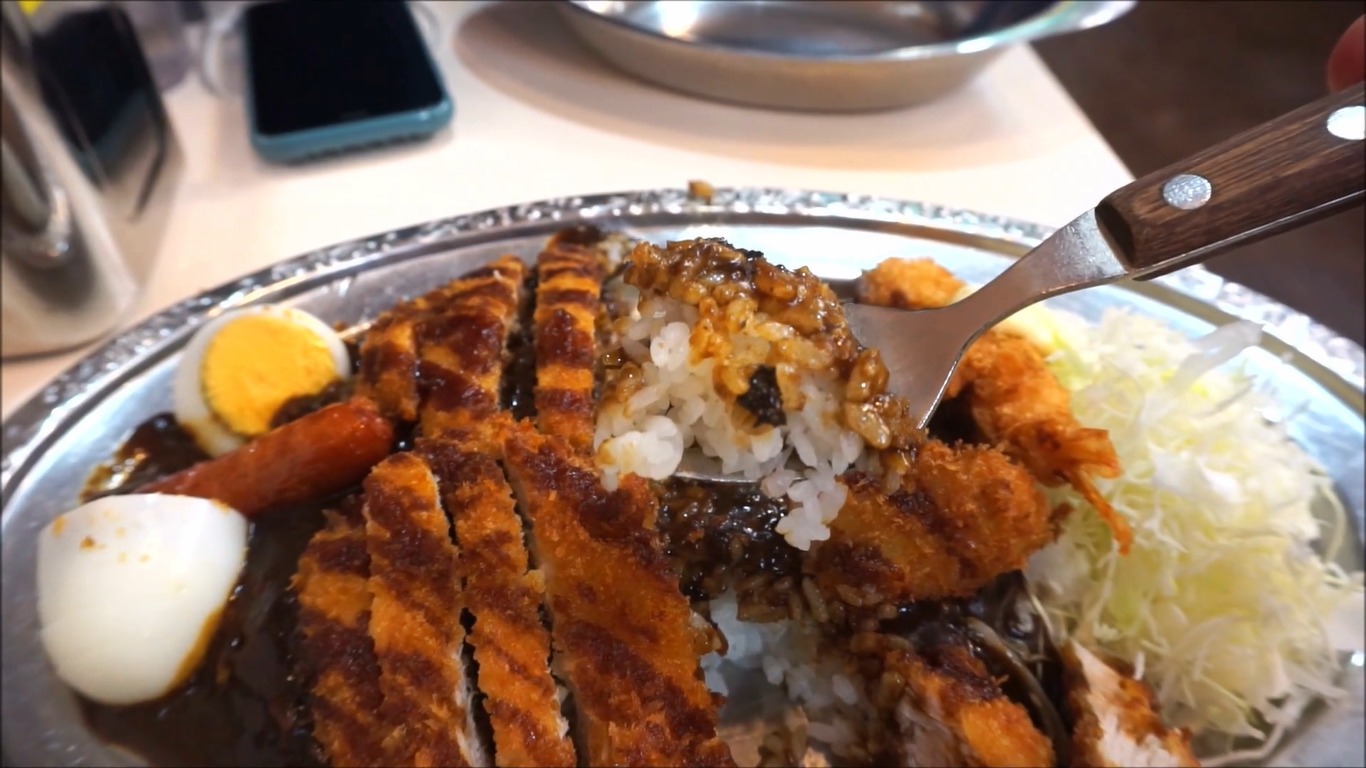 The Tonkatsu was perfect; crunchy on the outside yet soft and juicy on the inside. The curry sauce still has that signature flavor but less intense than Indian curry and less spicy too. Japanese rice is soft, fluffy and soaks up a lot of the curry sauce. We saw a lot of office workers dining in the store and I can see why. The meal is such a comfort food; simple, tasty and very filling.
The Verdict: 4.0 / 5.0
Address: 6-2-7 Ueno 1F Miyairi Bldg., Ueno, Taito 110-0005 Tokyo
Operating Hours: 10:55 am – 10:55 pm
---
Even though we only stayed for 1 day in Tokyo on this trip, I feel very accomplished as we were able to try out these awesome restaurants that we stumbled upon on social media.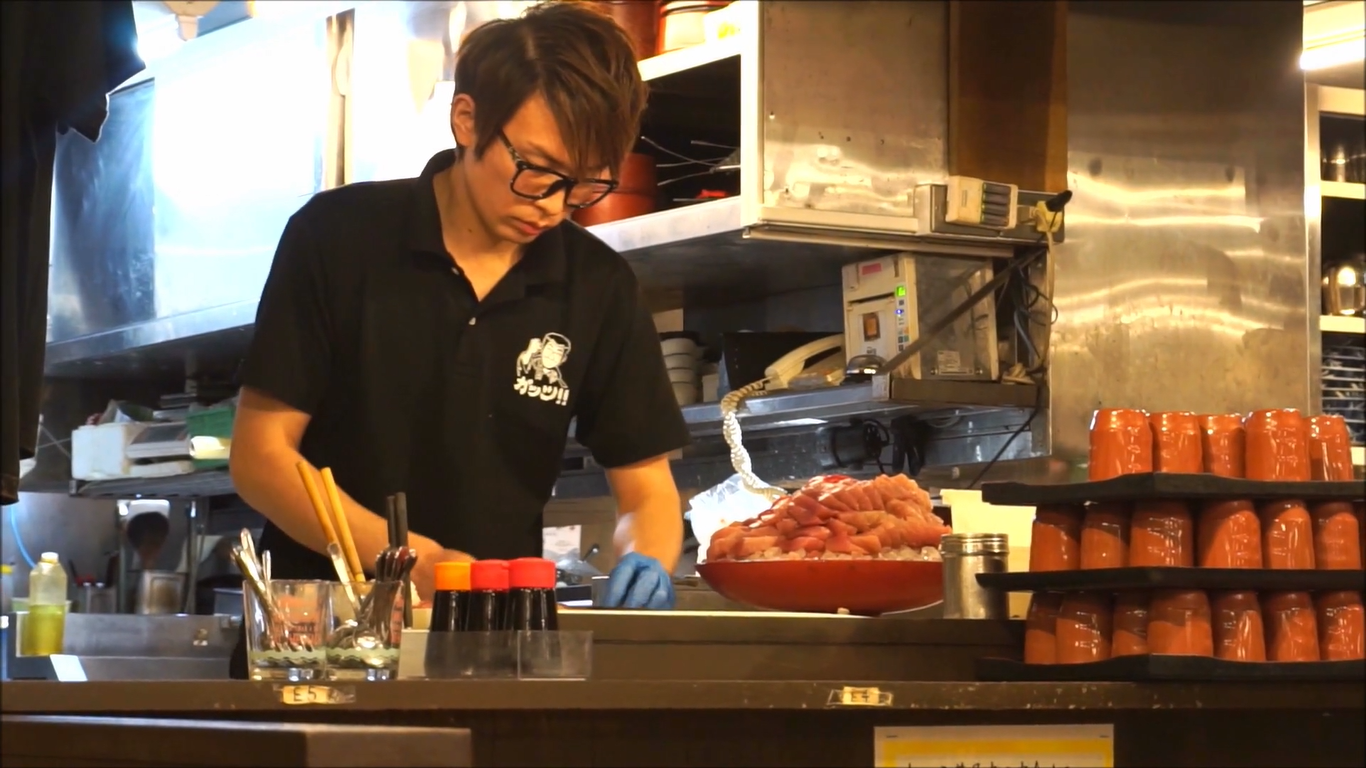 If given the chance, I would definitely come back for more Sashimi goodness in Taiko Chaya. Quality is often compromised for quantity but that is not the case in this buffet. The street food market of Ameyoko is another place I would love to check out next time. Tokyo is indeed a food paradise and I can't wait to be back for some more culinary adventure.
We made a Tokyo Food Vlog on our YouTube channel, The Daily Phil. Make sure to check it out to see what our food trip experience was really like.
Subscribe to The Daily Phil on YouTube for more Food and Travel videos.
Like us on Facebook to get real time updates on where The Daily Phil is headed to next.
This is The Daily Phil, conquering the world, one country at a time, using a Filipino passport.
Until next time, Travel Now, Bills Later!