Hokkaido may be freezing cold in winter but the weather is favorably pleasant during the rest of the year. Its cool climate makes the island an ideal place to grow crops and raise livestock that produce quality dairy products. The surrounding waters are also abundant with fish and various seafood. Because of this, food in Hokkaido is often regarded as one of the best in Japan. We did not miss the chance to try out some of the prefecture's signature dishes and delicacies during our short trip in Sapporo.
On this blog, The Daily Phil will show you where to find the best food places in Sapporo. Let's eat!
---
Miso Ramen @ Ramen Shingen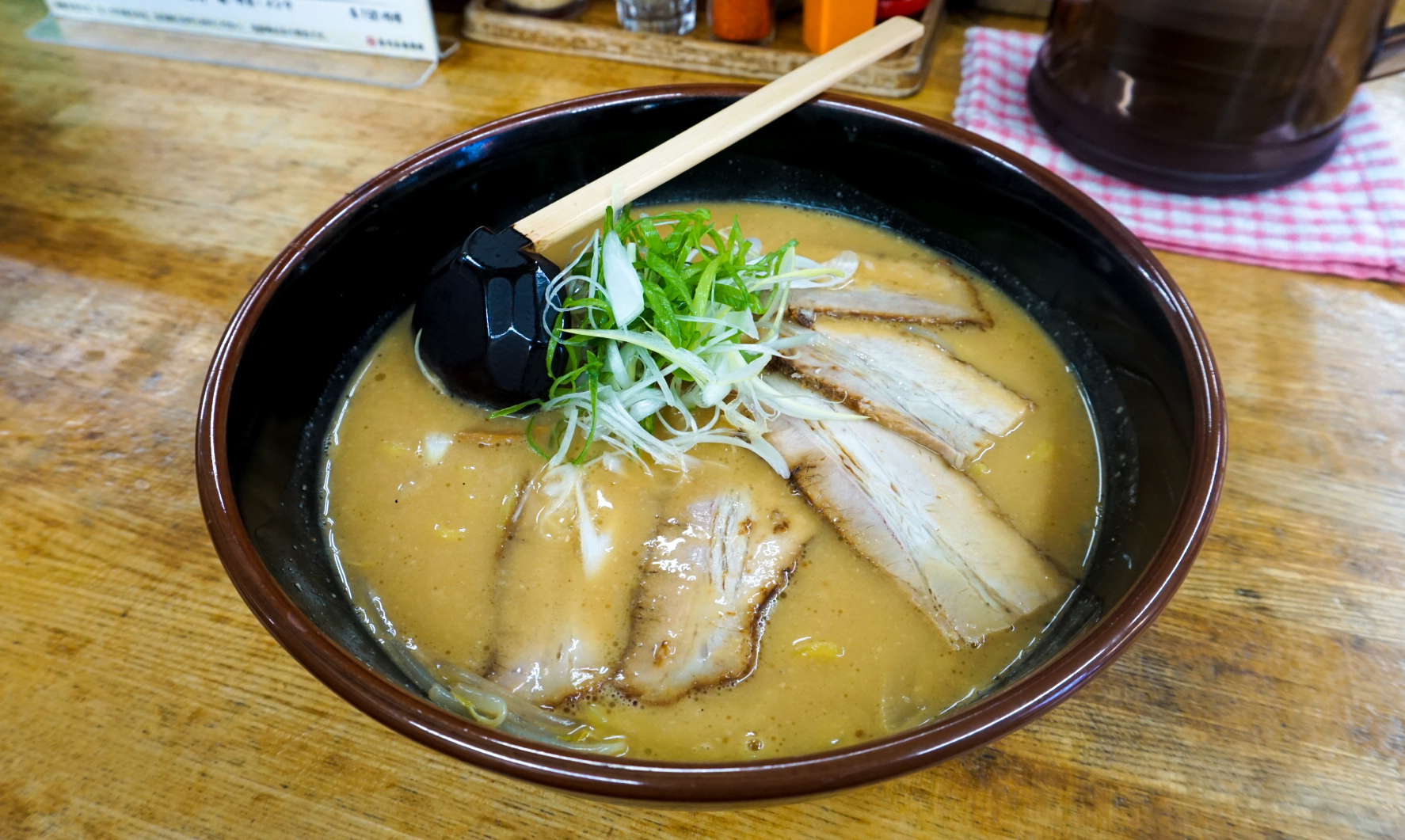 Our first stop is Ramen Shingen for a warm and delicious bowl of Miso Ramen. Miso is one of Hokkaido's signature ramen flavors similar with how Tonkotsu Ramen is popular in Fukuoka. Miso is made of fermented soy beans and is a key ingredient in Japanese cuisine. I am a little bit familiar with this ingredient as my mother used to ask me to buy this from the local market whenever she makes "Sinigang na Maya-Maya sa Miso". We arrived at the ramen shop at 2:00 PM and waited to be seated for about 10 min. The queue gets really long that it circles outside the shop during peak hours. Three men assemble the ramen in front of the customers and serves it immediately on the counter table that can only accommodate around 10 people. I ordered their original Miso Ramen with extra char siu toppings for JPY 800.00.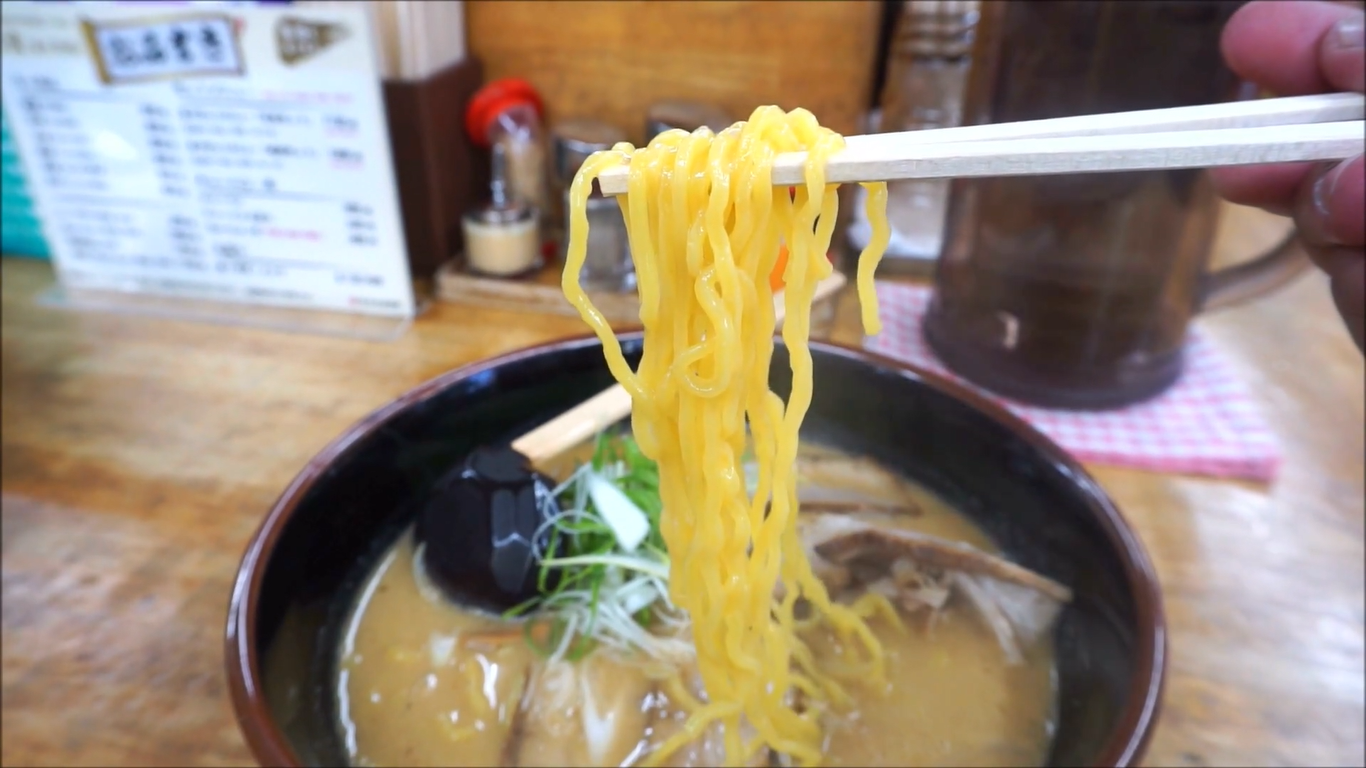 The soup was a little bit creamy and salty. I can taste and smell the slightly sour and tangy soy bean flavor from the miso as it is well blended. The noodles were curly, extra chewy and reminded me a lot of Lomi noodles back home. The char siu was smoky and ridiculously tender. I would get specks and grains of miso as I try to finish the bowl until the last drop. Tonkotsu Ramen from Fukuoka is my all-time favorite but it looks like Hokkaido's miso ramen is going to give it a run for its money.
The Verdict: 5.0 / 5.0
Address: 8 Chome-8-2 Minami 6 Jonishi, Chuo Ward, Sapporo, Hokkaido 064-0806, Japan
Operating Hours: 11:30 am – 1:00 am
---
Chicken Soup Curry @ Soup Curry Garaku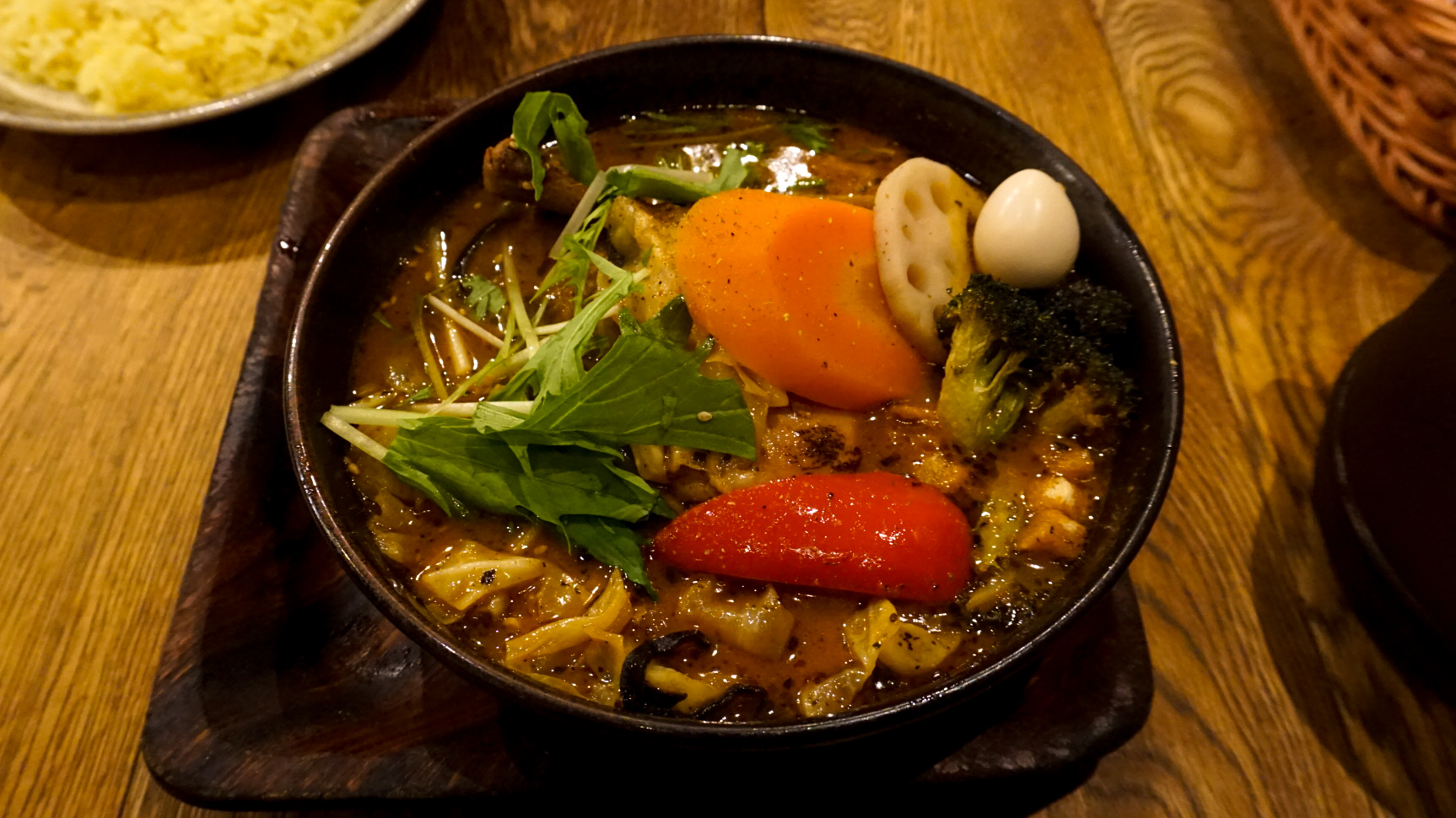 After visiting Sapporo TV Tower and Sapporo Clock Tower, we went to Soup Curry Garaku for dinner before wrapping up Day 1. We queued for about 15 min before we got seated. Soup curry is made of spicy curry broth with different kinds of vegetables such as potatoes and carrots with either chicken, pork or sometimes seafood. It is traditionally served with rice while others make it more special by adding cheese and other toppings. The warmth and spice of the soup is perfect for a chilly winter evening. One can customize their soup curry by adjusting the level of spiciness that runs from Level 1 to 40. We ordered one serving of Chicken Soup Curry with rice for JPY 1,200.00 and set its spiciness at Level 5 just to be on the safe side.
The distinct aroma of curry hits me as soon as the plate is laid on the table. Each spoonful of its rich, salty and peppery broth is packed with flavor that it is necessary to follow it up with rice to balance it all out. Level 5 is tolerable for me and I think I can go a couple notches higher but I didn't want to pay extra. The curry has penetrated deep into the meat making the chicken so tasty and tender that it falls of the bone. The vegetables provide texture and crunch to complete the food experience. However, I think the meal is a bit overpriced considering the small serving size. Nonetheless, I am very happy that I finally got to try another one of Sapporo's must eats.
The Verdict: 4.0 / 5.0
Address: 2-6-1 Minami 2-Jo Nishi, Chuo-Ku | Okumura Bldg. B1F North Entrance, Sapporo 060-0062, Hokkaido
Operating Hours: 11:30 am – 3:00 pm; 5:00 am – 10:30 pm
---
Genghis Khan and Crab Legs @ Sapporo Beer Garden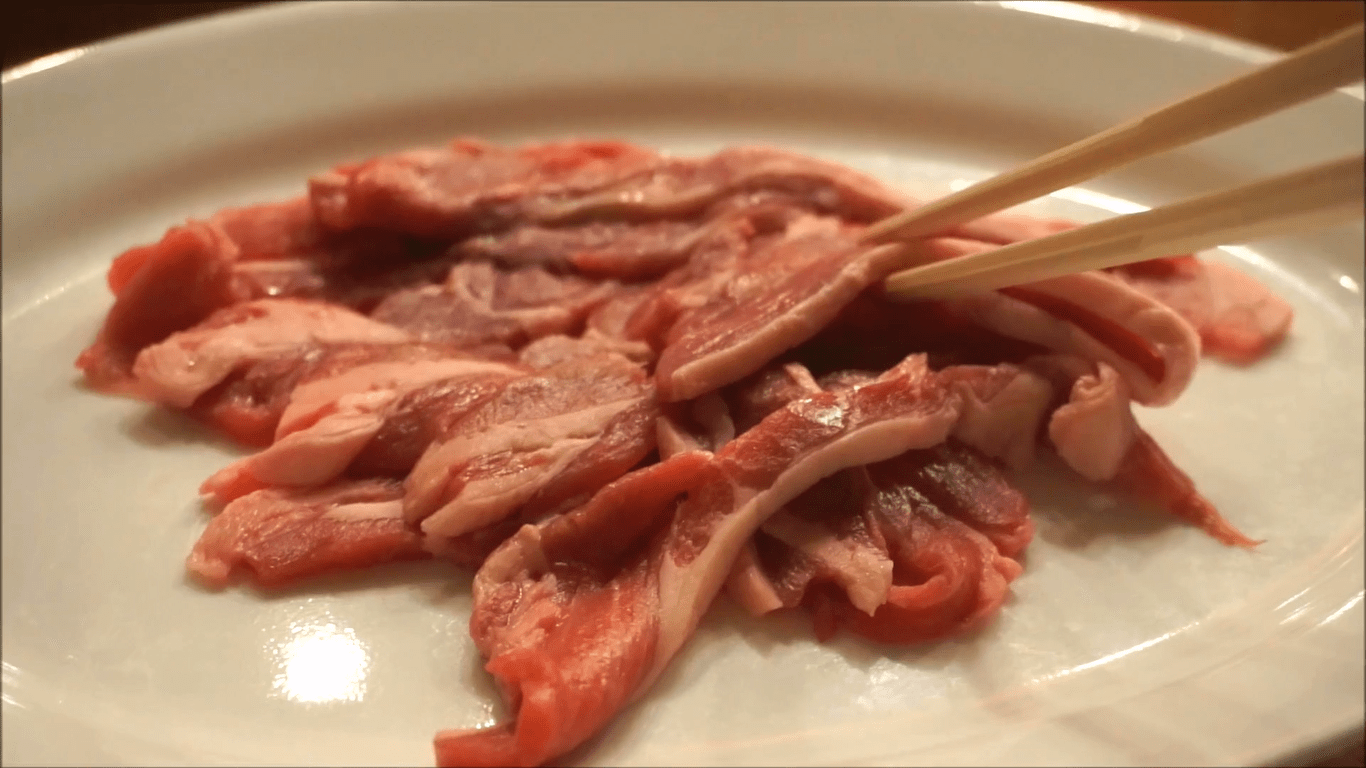 After visiting Jozankei Onsen Village and Mt. Moiwa Ropeway, we concluded Day 2 by visiting Sapporo Beer Garden. However, we didn't come here for the beer but to enjoy an all you can eat buffet featuring "Genghis Khan", King Crabs and Snow Crabs. Genghis Khan is lamb grilled to your liking in a dome shaped grill right on your table. I was curious to see how different the Genghis Khan of Hokkaido is from Beijing where I got to try this dish for the first time. The two are very much the same when it comes to texture and flavor. There is no strong smell or aftertaste as well. The meat is very flavorful on its own but tastes even better when dipped in their special sauce that reminds me of Yakiniku sauce, sweet and salty.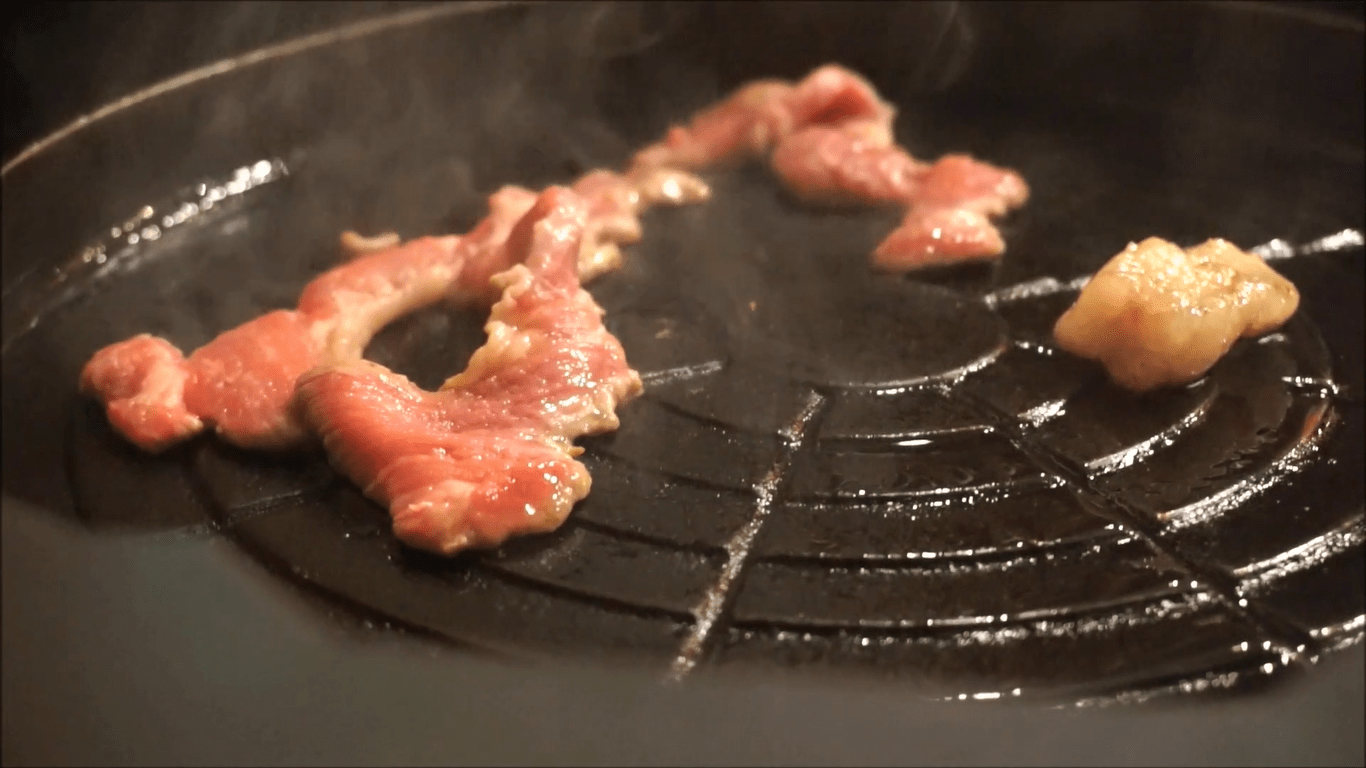 I totally forgot about the Genghis Khan when the platters of giant crab legs arrived on our table. Each leg is filled with dense, firm crab meat that is so fresh and comes with a hint of sweetness. Although we are not beer drinkers, we got all that food down with a glass of the local draft beer, another Sapporo must try. The buffet costs JPY 7,700 per head which includes unlimited Genghis Khan, crabs, sushi, assorted meats, side dishes and desserts. The price goes up to JPY 9,000 if you also want unlimited beer.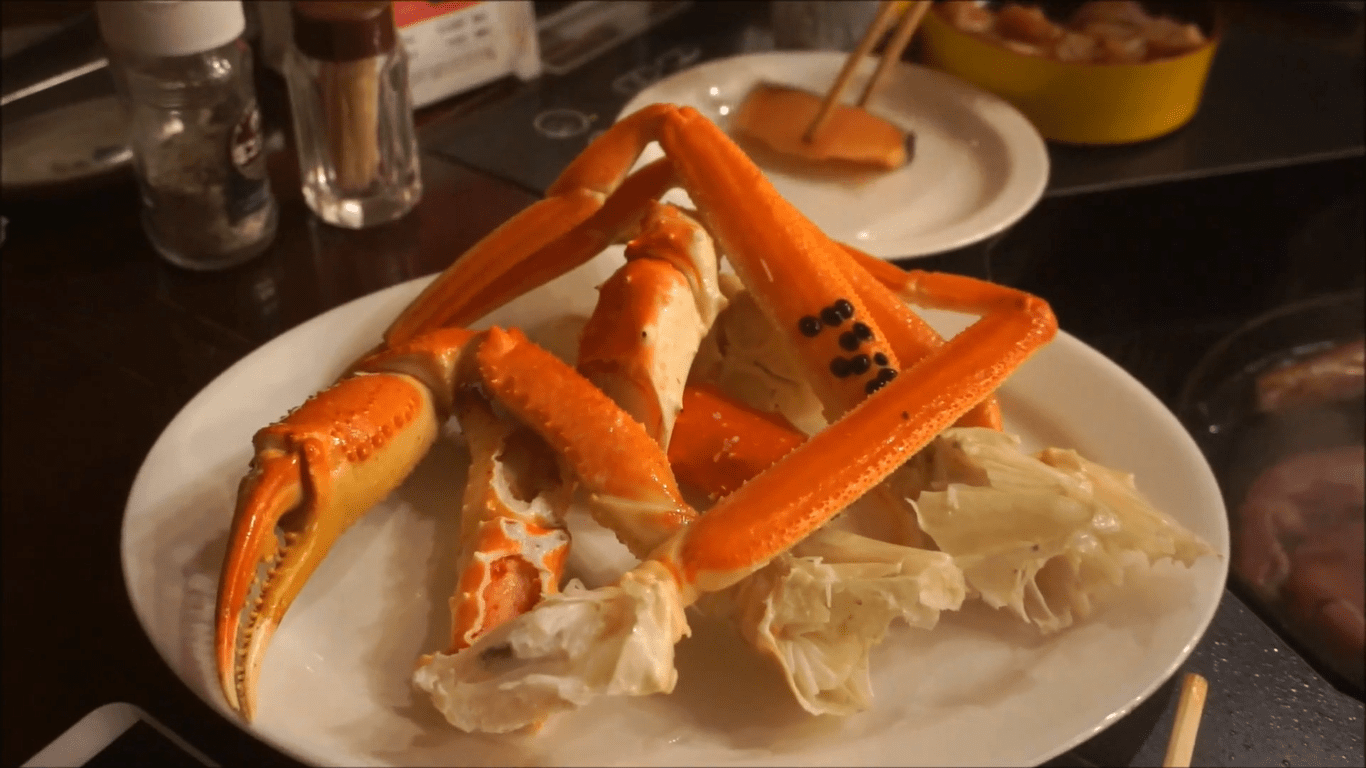 I think we got value for our money by eating as much crabs as we can since King Crabs and Snow Crabs cost a fortune when ordered a la carte. We ate as much as 5 platters of crab legs just between the 2 of us.
The Verdict: 5.0 / 5.0
Address: 9-2-10, Kita7Jo, Higashi-ku, Sapporo, Hokkaido, 065-0007
Operating Hours: 11:30 am – 10:00 pm
---
Soft Serve Ice Cream @ Café Croissant
It's time for dessert! Hokkaido's dairy industry is the biggest in Japan, thanks to its large countryside and cool weather that is perfect for raising cows and other farm animals. 60% of the country's milk is produced in this prefecture and the locals use it in many food products more often than anywhere else. We stopped by Café Croissant inside JR Sapporo Station on our way to the airport to try their Soft Serve Ice Cream for JPY 510.00.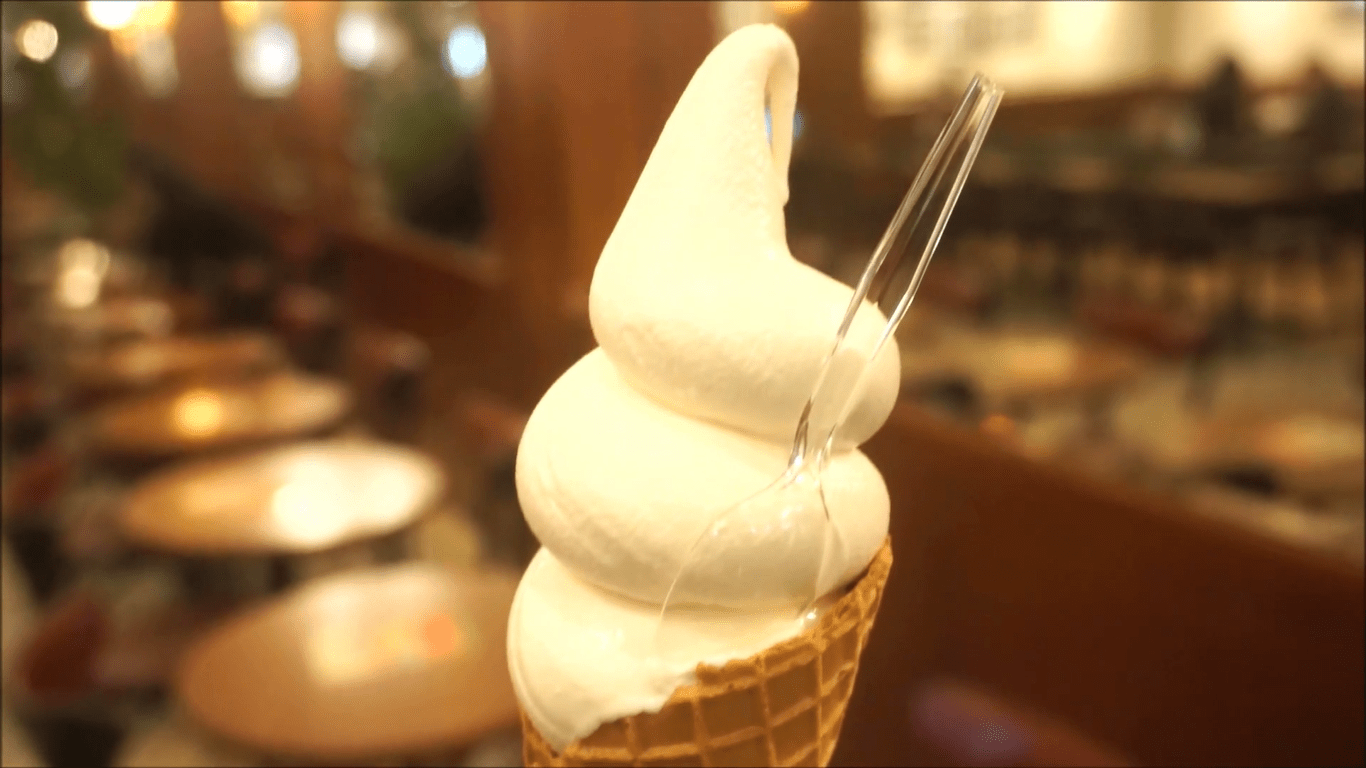 At first look, it may seem like your average soft serve: a generous twirl on top of a waffle cone. But once you taste it, you can tell right away that it's something special. It is extra smooth, creamy and oozing with an intense and natural milk flavor. There are no hints of preservatives or artificial sweeteners but just pure milk goodness.
---
Cheese Tart @ Kinotoya Bake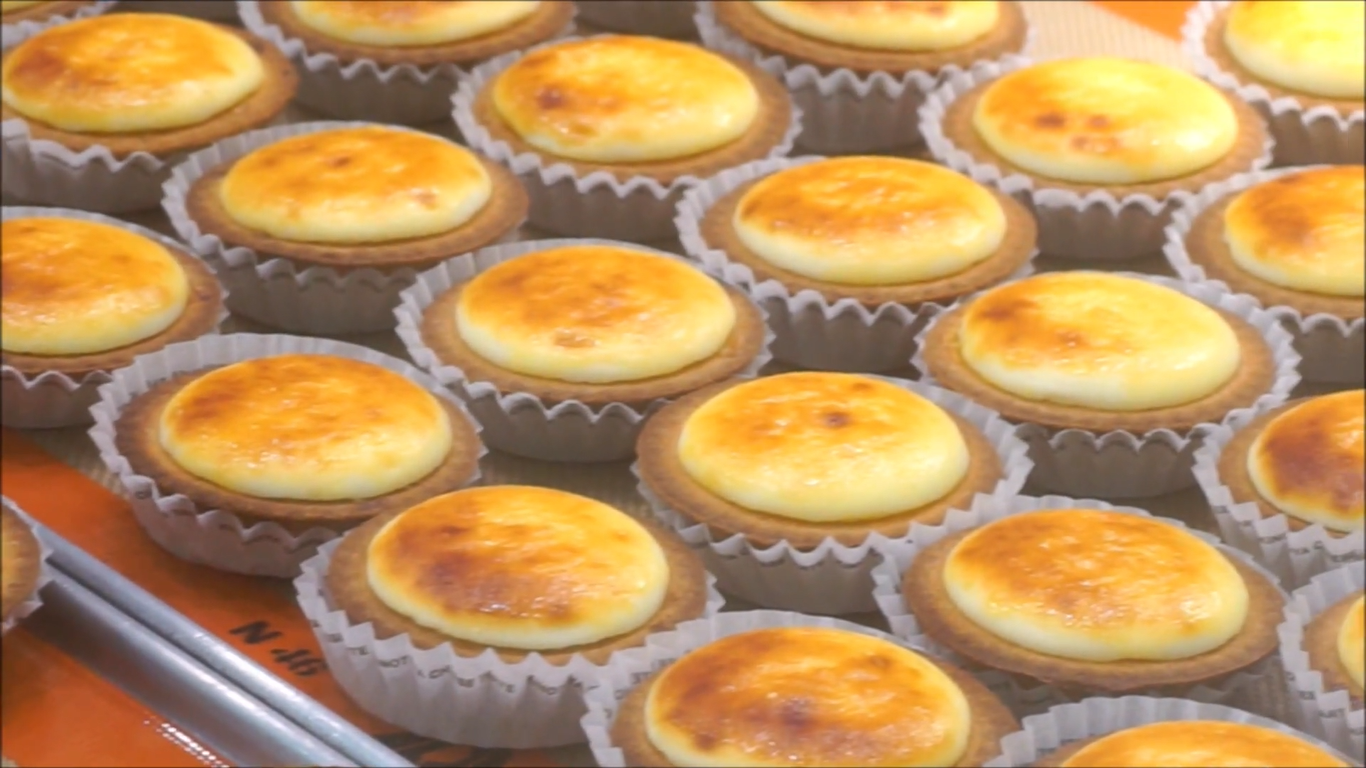 Located in the East Entrance of JR Sapporo Station is Kinotoya Bake, the brand that first comes to mind when people talk about cheese tart. A cheese tart is like a cheesecake but with a lighter filling and a cookie-like crust. Hundreds of these freshly baked goodies are displayed with the intention of luring in the busy commuters as they pass by the shop's see through walls. The filling's texture is smooth, light and super creamy which contrasts its rough and snappy crust. It tastes mildly sweet with a hint of tang. We didn't eat the tarts until we were settled in the boarding gate at the airport. Reviews online suggested to eat it hot and fresh for maximum goodness. One serving costs JPY 216.00.
---
We had a great time trying out some of Sapporo's signature eats. The food that stood out for me in this trip is the Miso Ramen by Ramen Shingen. Ramen is one of my all-time favorite Japanese food especially Tonkotsu Ramen. The curly noodles and the distinct flavor of the soy bean broth is to die for.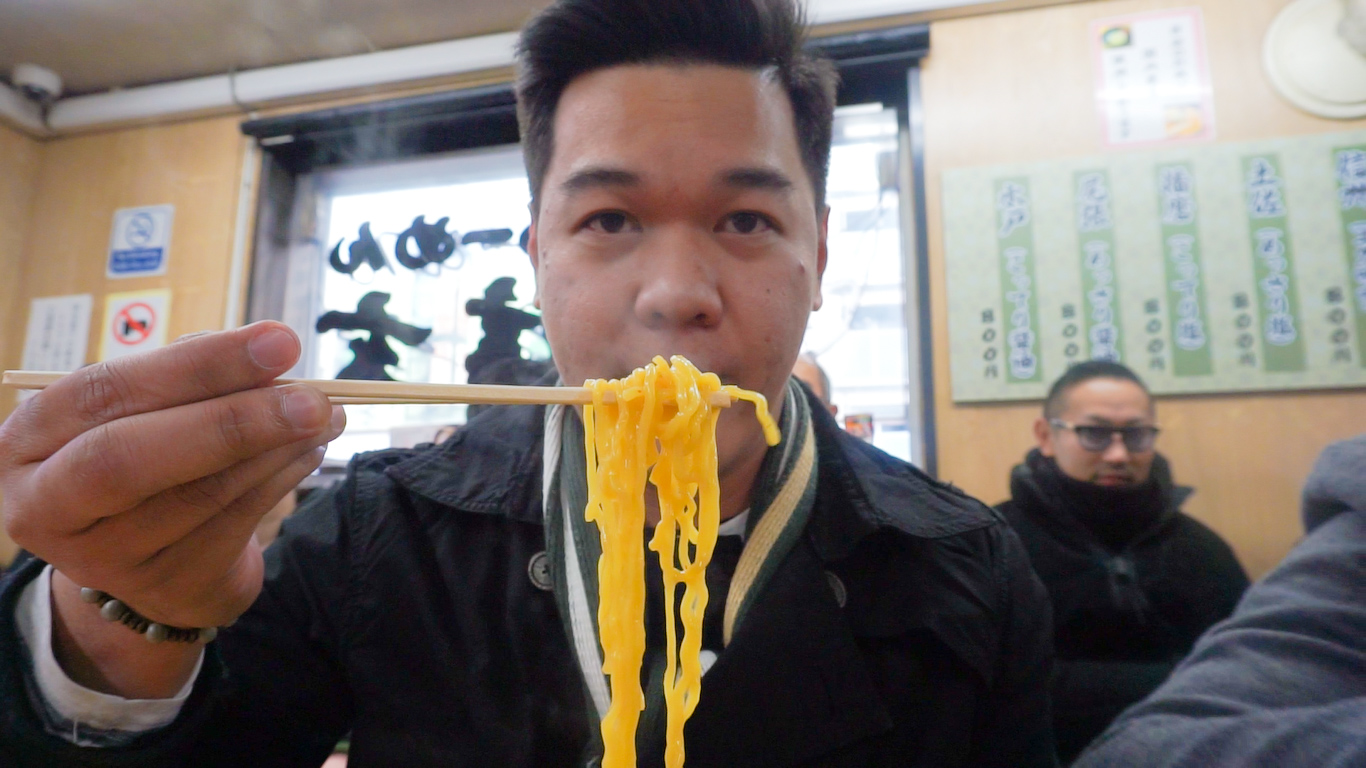 We also had a good time in Sapporo Beer Garden where we took advantage of the all you can eat buffet and ate endless plates of King crabs and snow crabs. The crab meat was sweet, juicy and simply delicious.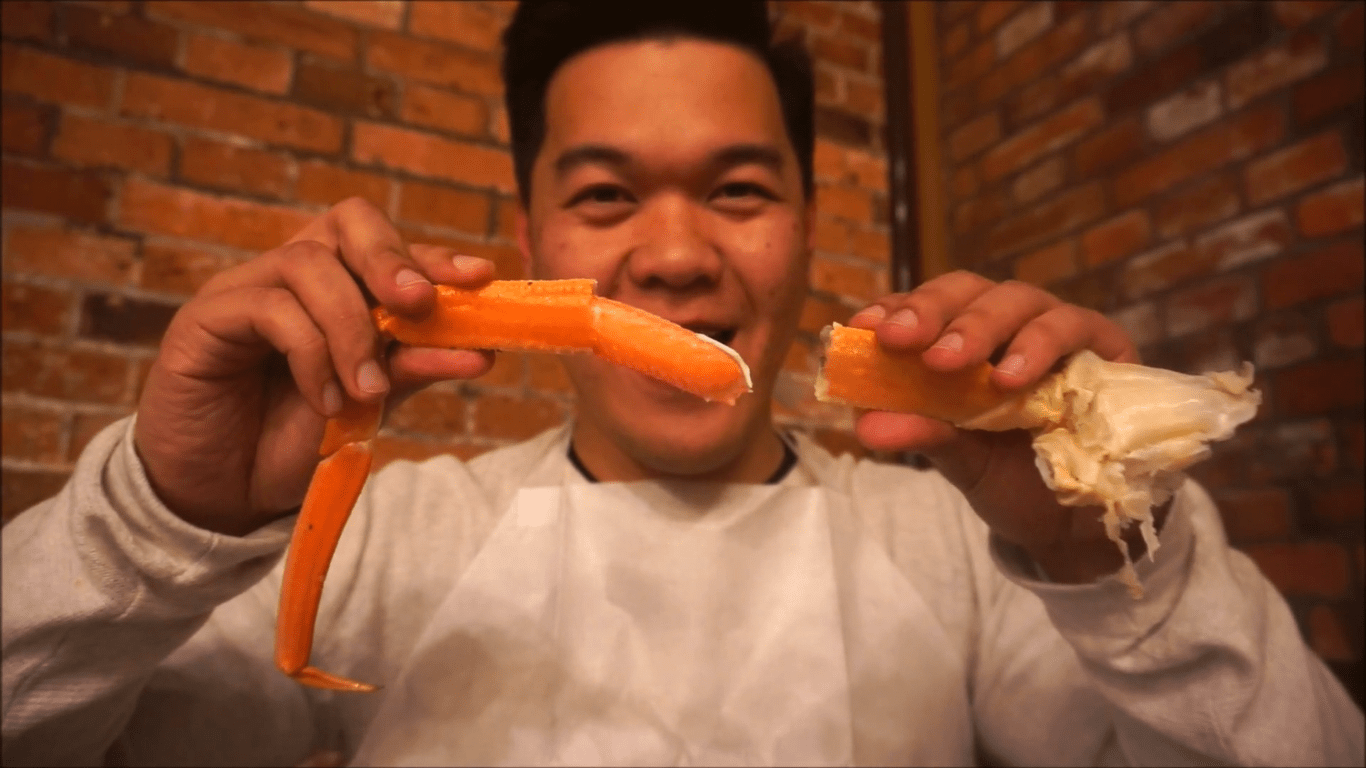 However, we did not have enough time to visit any of the city's fish market to try Hokkaido's seafood. I will make it a point to eat some fresh sushi and try a bowl of Kaisendon when I come back.
We made a Sapporo Food Vlog on our YouTube channel, The Daily Phil. Make sure to check it out to see what our food trip experience was really like.
Subscribe to The Daily Phil on YouTube for more Food and Travel videos.
Like us on Facebook to get real time updates on where The Daily Phil is headed to next.
This is The Daily Phil, conquering the world, one country at a time, using a Filipino passport.
Until next time, Travel Now, Bills Later!