Cheap, delicious, and authentic. Adjectives that describe the street food scene in Bangkok, Thailand. In this blog, we're showing you everything we ate in this street food paradise. Let's go!
Thai Braised Beef Noodles @ Wattana Panich
The first thing on our menu is Thai Braised Beef Noodles by Wattana Panich. A gigantic cauldron of simmering beef chunks, fat, and tendons will welcome visitors as they approach the store's entrance. This is probably one of the oldest soups in the world as the broth has been boiling for more or less 50 years.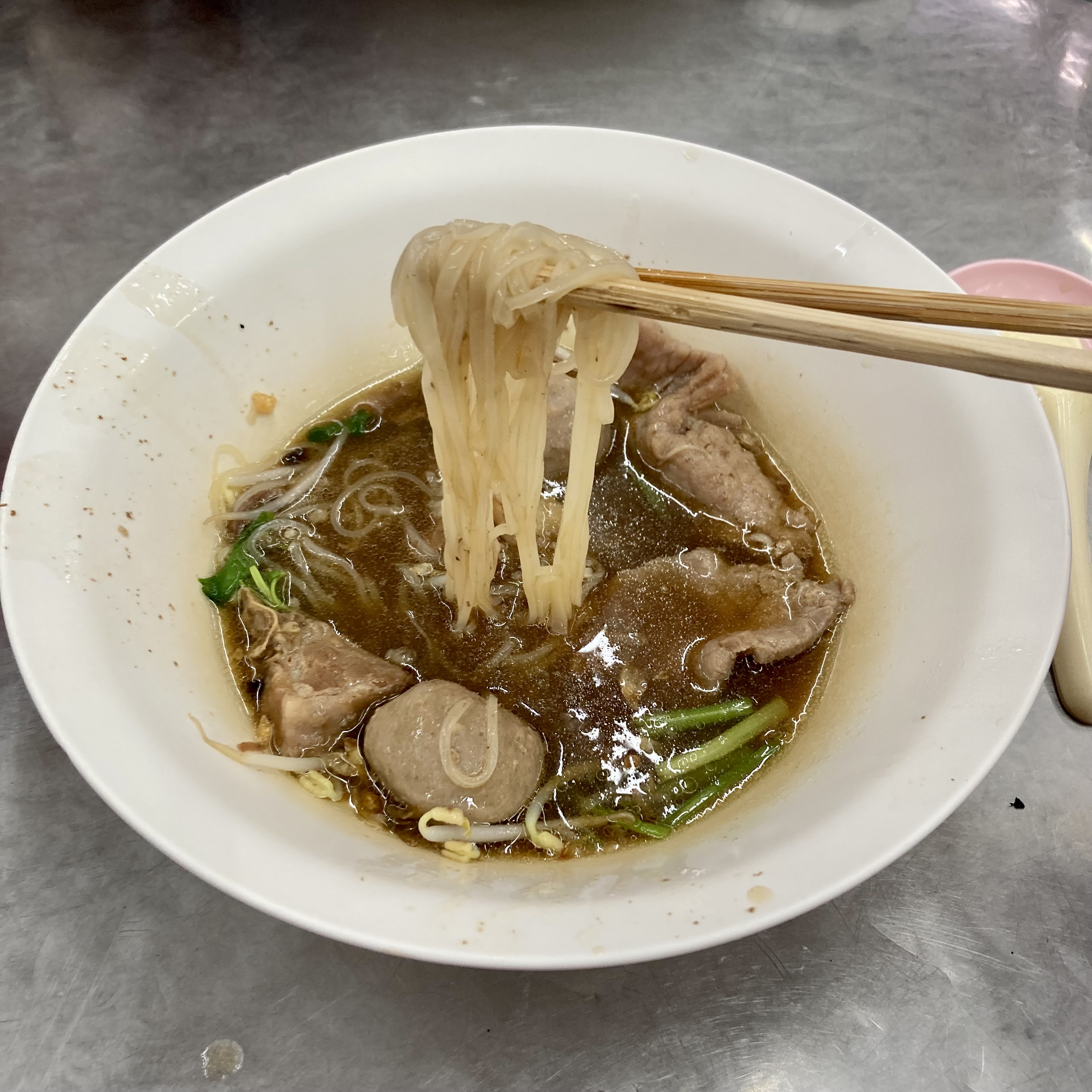 The soup has that deep, rich meaty flavor and has a lot of fat in it. I can smell star anise and a little bit of a citrusy scent. The generous amounts of various slices of meat were delightful. All of them were so tender and tasty. Somewhere in the bottom of the bowl are thin glass noodles. We finished the entire thing in less than 5 min. One serving of Thai Braised Beef Noodles costs THB 100.00.
The Verdict: 5.0 / 5.0
Address: 336 338 Ekkamai Rd, Khlong Tan Nuea, Watthana, Bangkok 10110, Thailand
Operating Hours: 9:00 AM – 7:30 PM
---
Pad Thai @ Thipsamai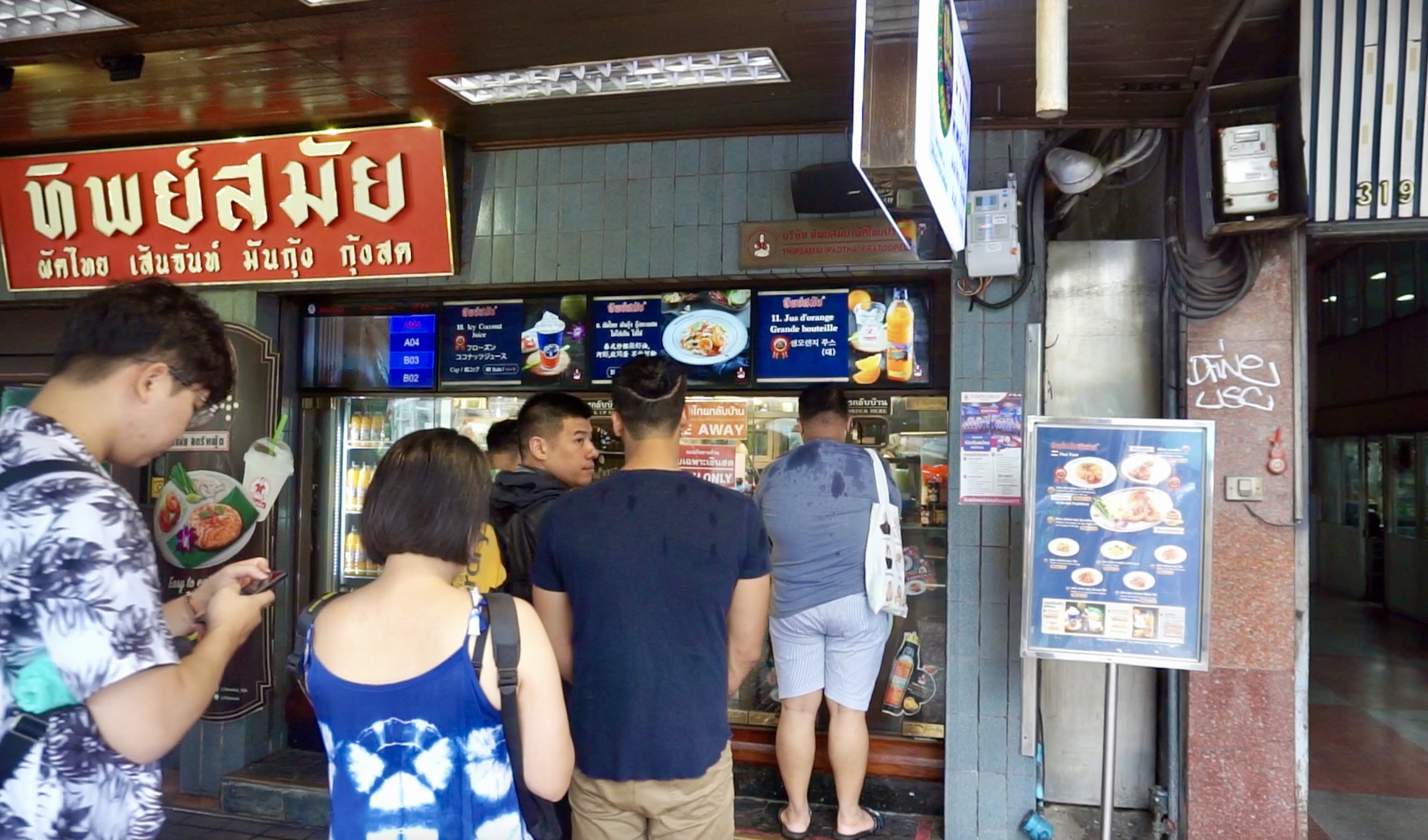 One cannot leave Thailand without having a plate of its world-famous Pad Thai so for this trip we visited the oldest and what is considered by many as the best Pad Thai in Bangkok, Thipsamai. We visited around noon and had to settle for their takeaway as dine-in service starts later at 5:00 pm.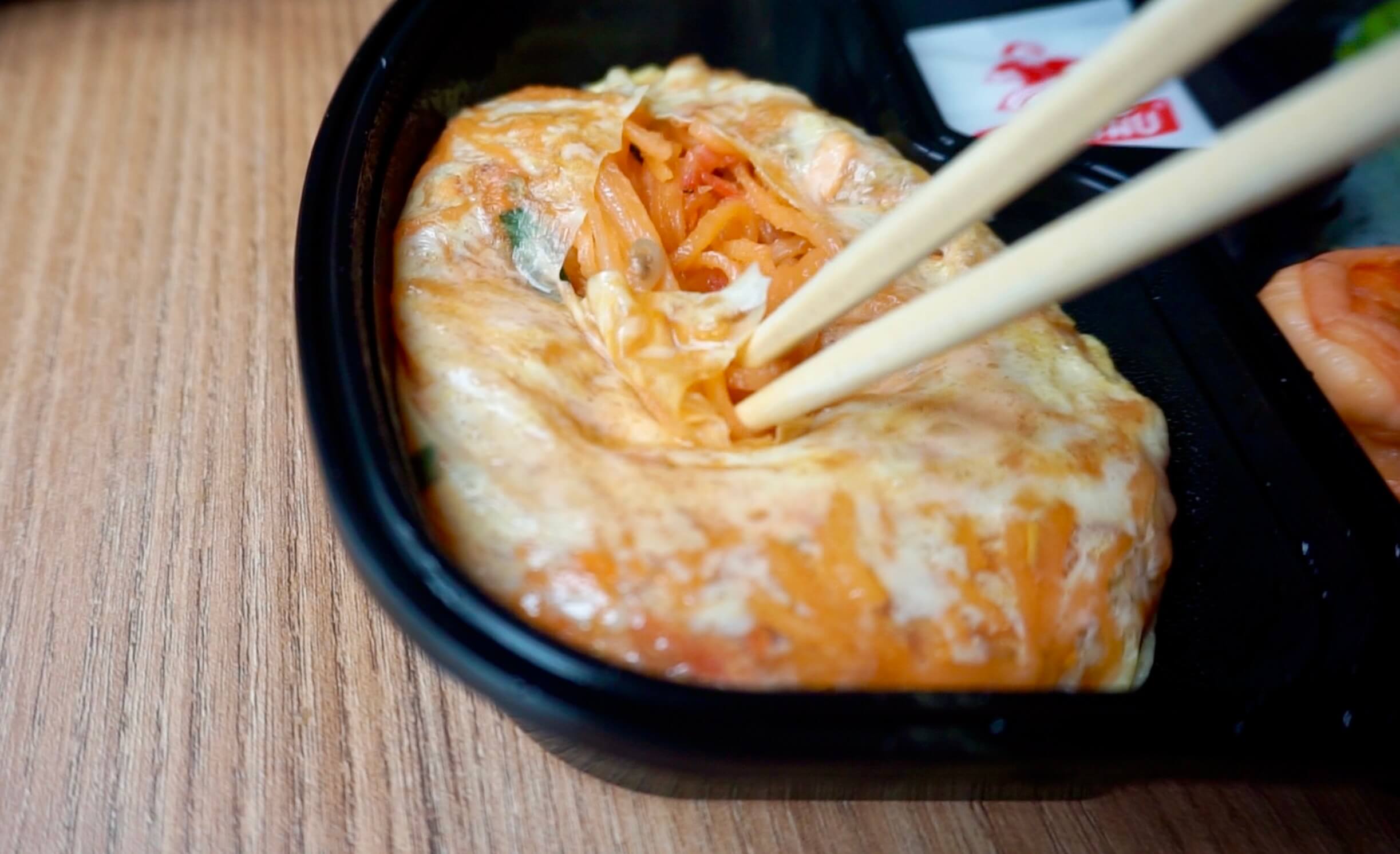 Our order consists of Superb Pad Thai (Noodles wrapped in egg, served with prawns) for THB 150.00 and Pad Thai – Song Krueng (Noodles with prawns, squid, crab meat, sliced green mango, etc.) for THB 500.00.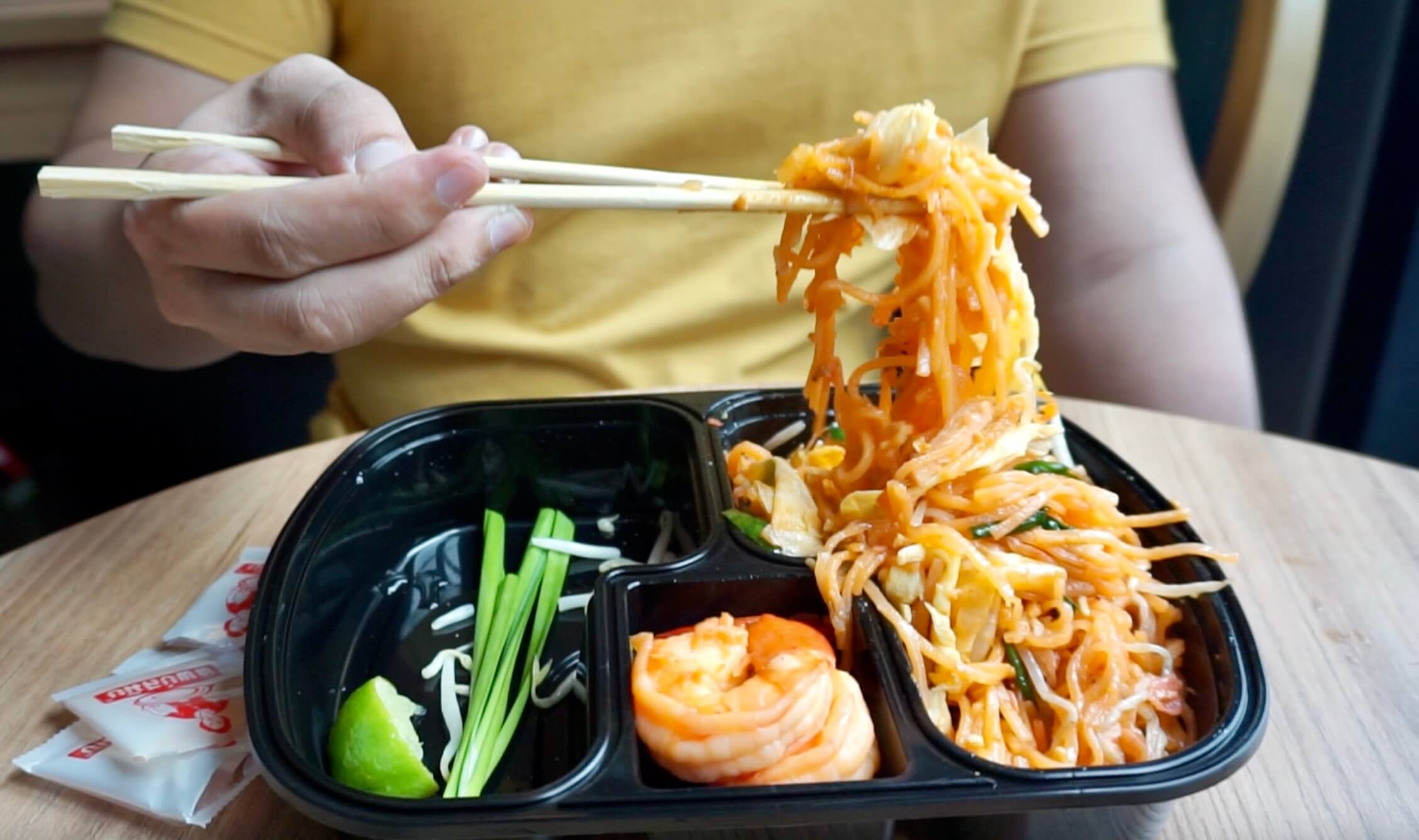 The noodles were a little bit sweet, a little bit salty, and citrusy. It has the perfect balance of flavors and is wonderfully refreshing with all of the vegetable sides that come with it. Blazing charcoal stoves were used to cook these noodles but I did not get much of that smoky flavor. It probably faded away when we carried the noodles back to our hotel. Nonetheless, Thipsamai is worth the hype and is indeed one of the best Pad Thais I've ever had.
The Verdict: 5.0 / 5.0
Address: 313 315 Maha Chai Rd, Samran Rat, Phra Nakhon, Bangkok 10200, Thailand
Operating Hours: 9:00 AM – 12:00 AM
---
Mango Sticky Rice @ Kor Panich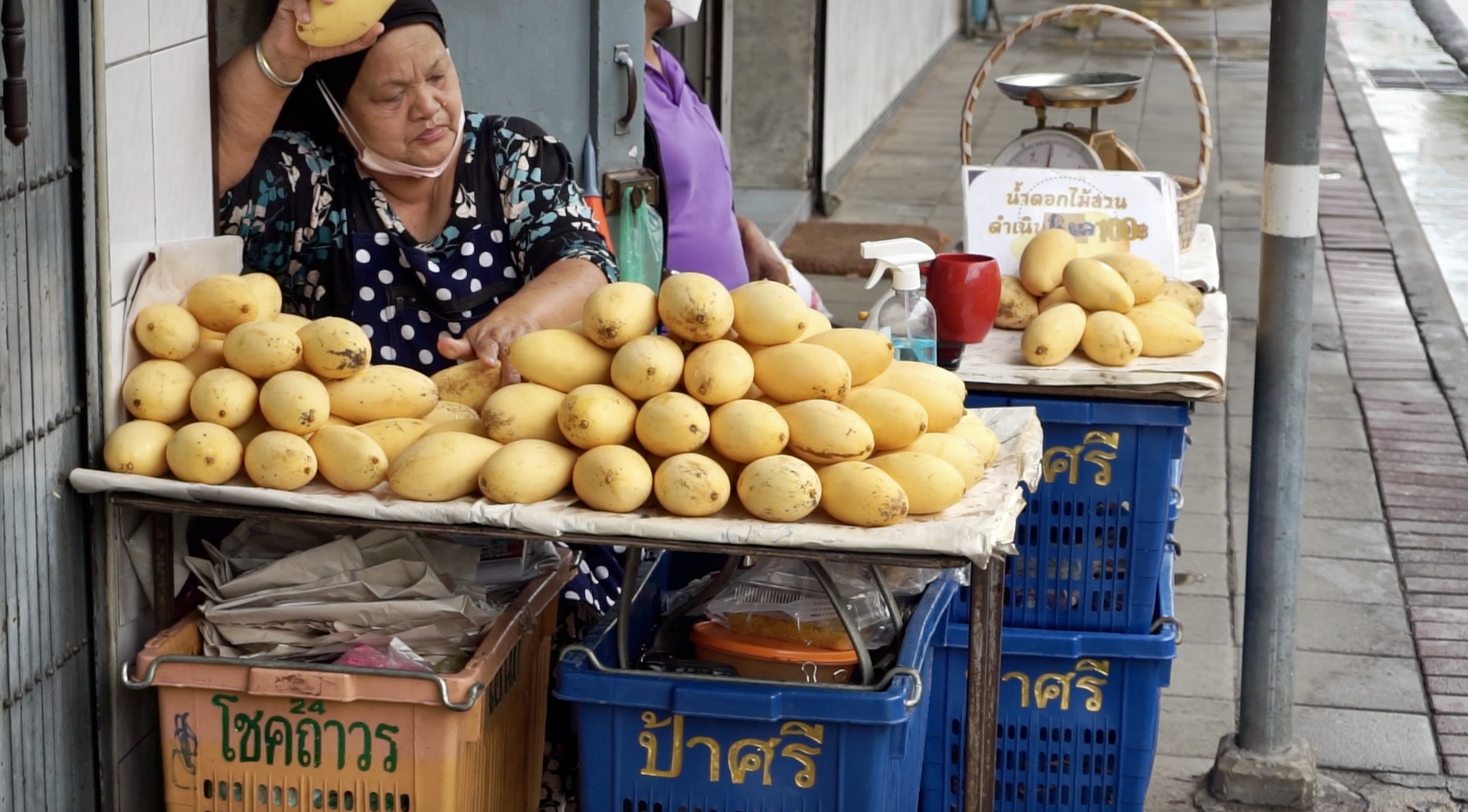 One of the treats I missed the most in Thailand is their Mango Sticky Rice. I had it every day during my first visit to Bangkok. It is so affordable and can be found on almost every street corner. This time we tried Kor Panich, a Michelin Bib Gourmand awardee. It is said that the owner's mother-in-law used to serve this to the Royal Family. It also costs THB 125.00, twice the price of those sold by street vendors so it better be worth it.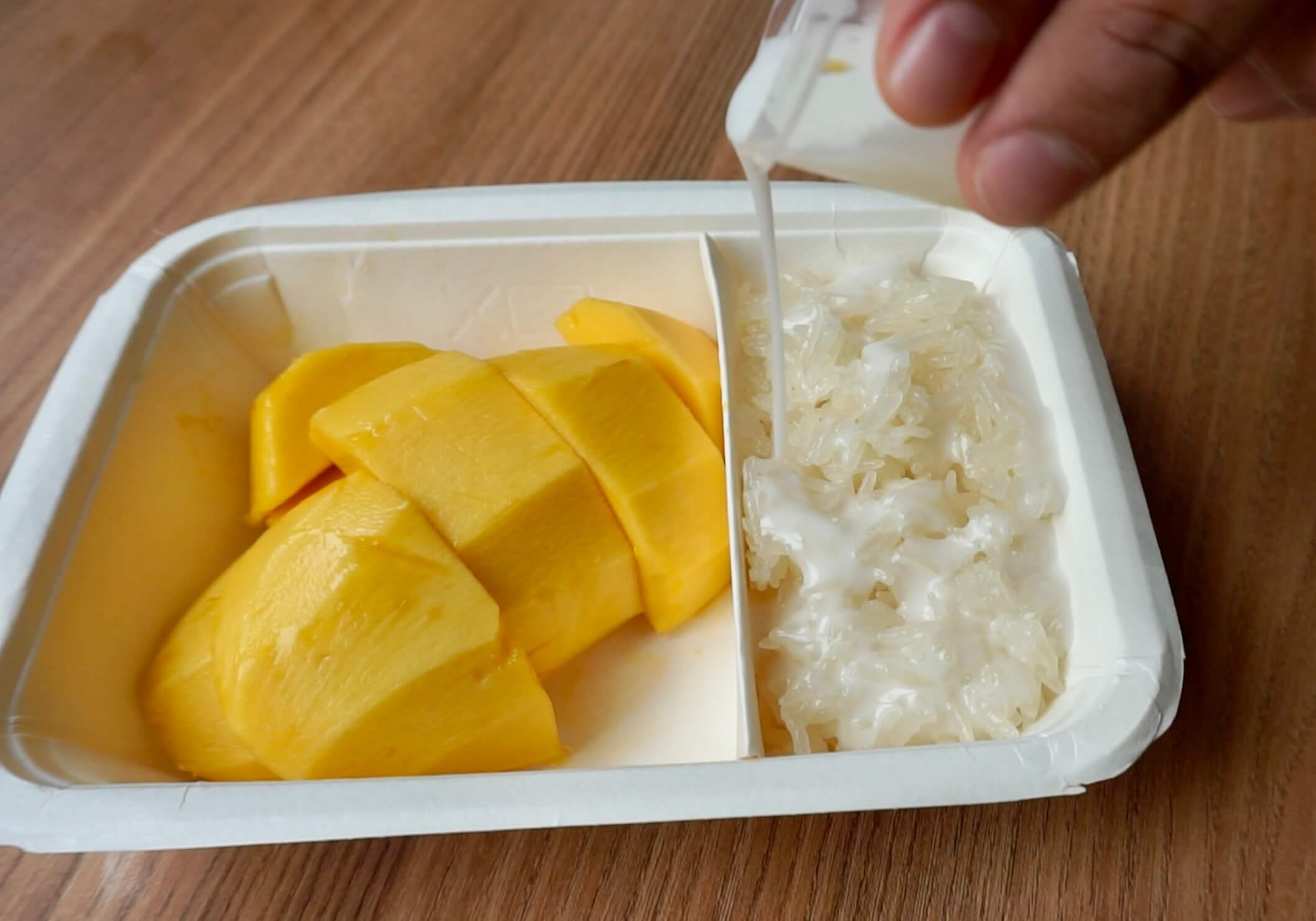 The sticky rice had the perfect texture: sticky and soft but with some grains that have resistance and crunch when bitten. It's delicately sweet with coconut milk poured over it. A hint of saltiness comes through too. The crispy beans add more texture. Thai mangoes are very plump and fleshy, not as sweet as the ones we have here but are just as delightful. I ate it every day and I never got tired of it.
The Verdict: 5.0 / 5.0
Address: 431 433 Thanon Tanao, San Chao Pho Sua, Phra Nakhon, Bangkok 10200, Thailand
Operating Hours: 7:00 AM – 6:00 PM
---
Thai Afternoon Tea Set @ Heychom Thai Dessert Bar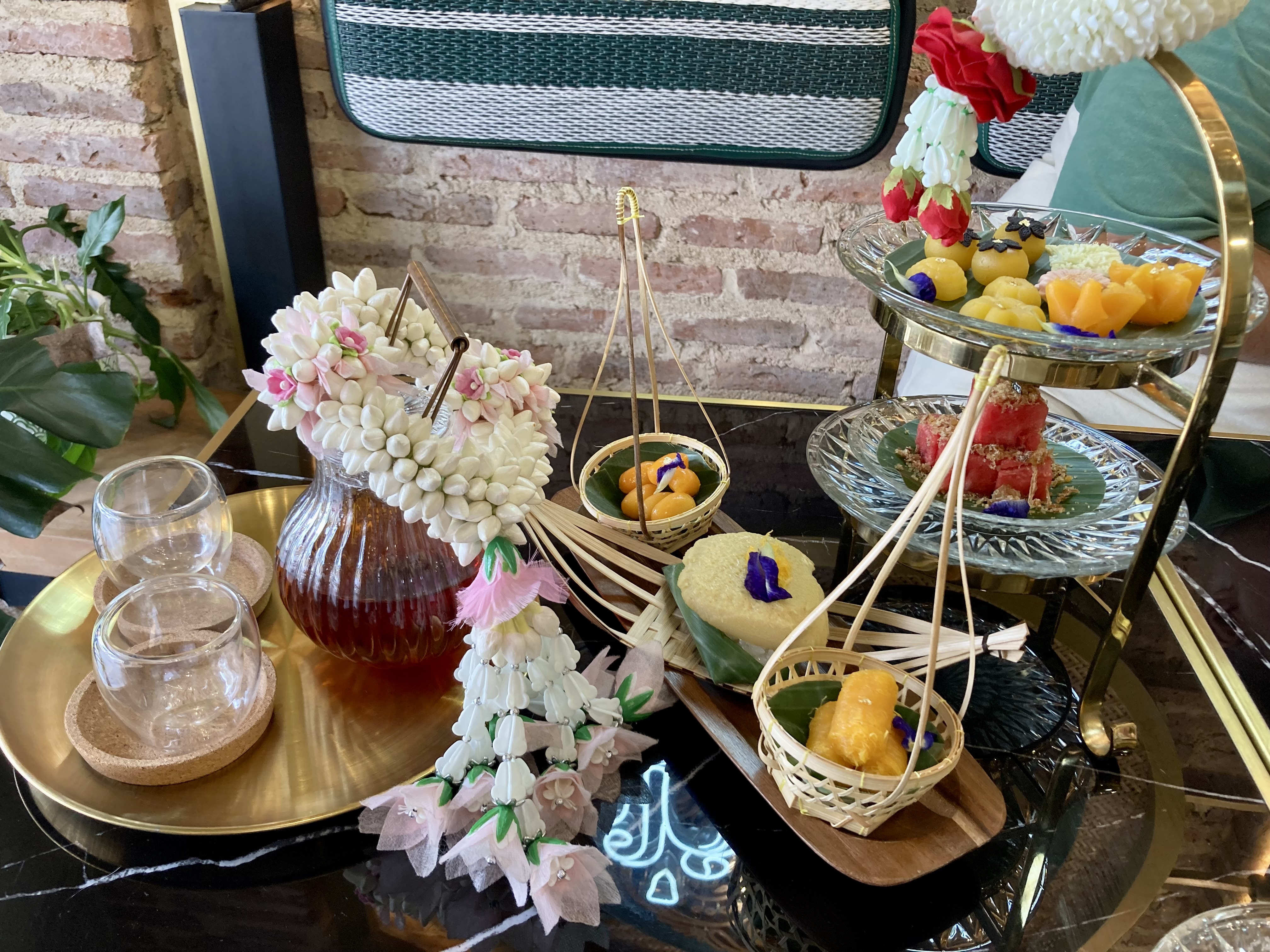 Just outside of Wat Pho is a cute little tea shop serving traditional Thai desserts called Heychom. We got their gorgeous-looking Thai Afternoon Tea Set for THB 499.00 which is composed of your choice of tea with various dainty snacks and sweets that are probably made of rice, coconut, eggs, beans, and fruits among others, I am really not that sure. The shop's interior is so relaxing and very Instagram-worthy.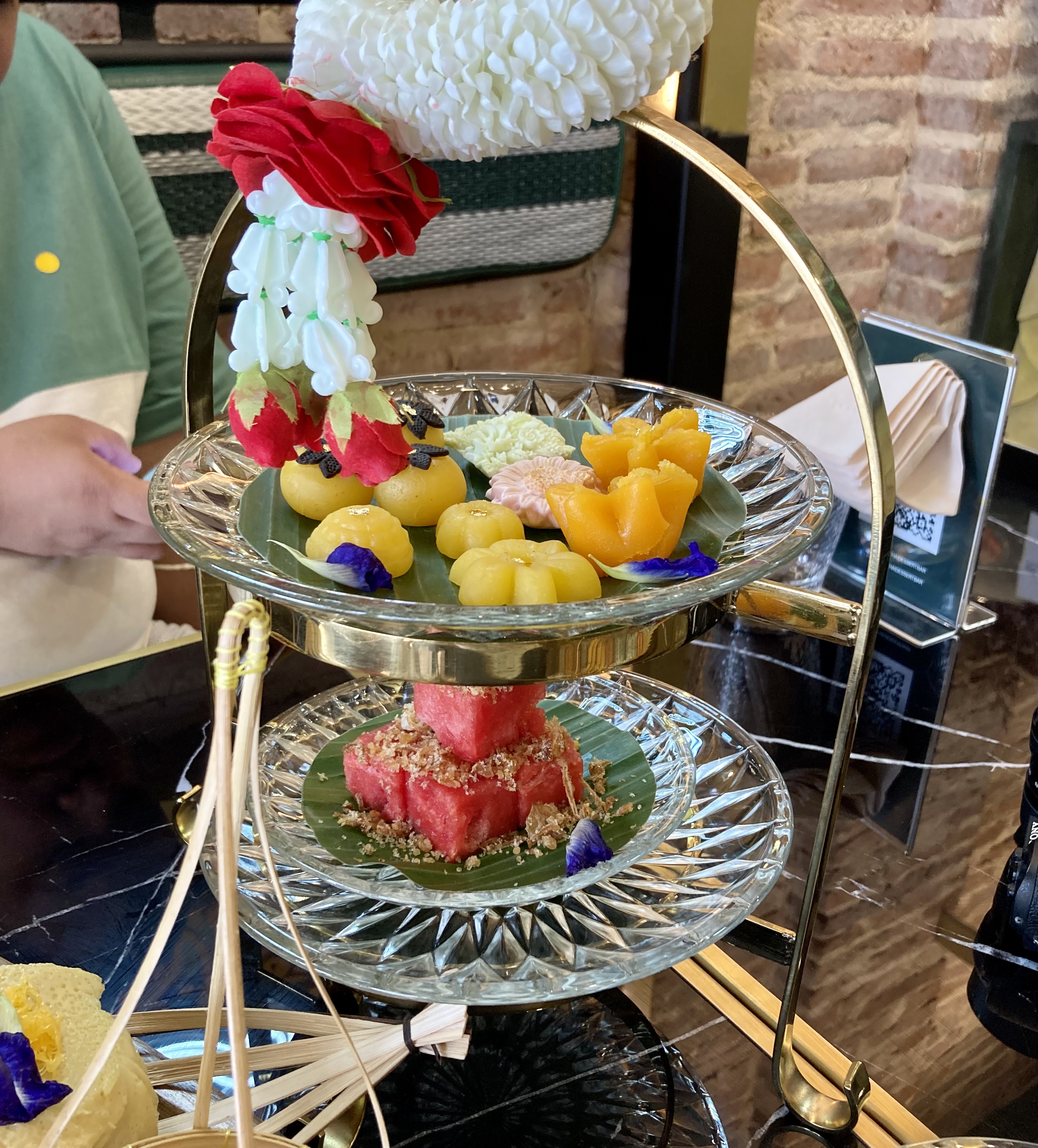 We were clueless as to what we were eating at Heychom for the most part but the egg roll and sticky rice with custard on top were delicious enough to be remembered. John, on the other hand, was not that pleased and thought the set is just not worth it. Nonetheless, we were able to rest after a tiring and humid day of temple hopping.
The Verdict: 5.0 / 5.0
Address: 320 Maha Rat Rd, Phra Borom Maha Ratchawang, Phra Nakhon, Bangkok 10200, Thailand
Operating Hours: 11:00 AM – 6:00 PM
---
Yellow Curry @ Jek Pui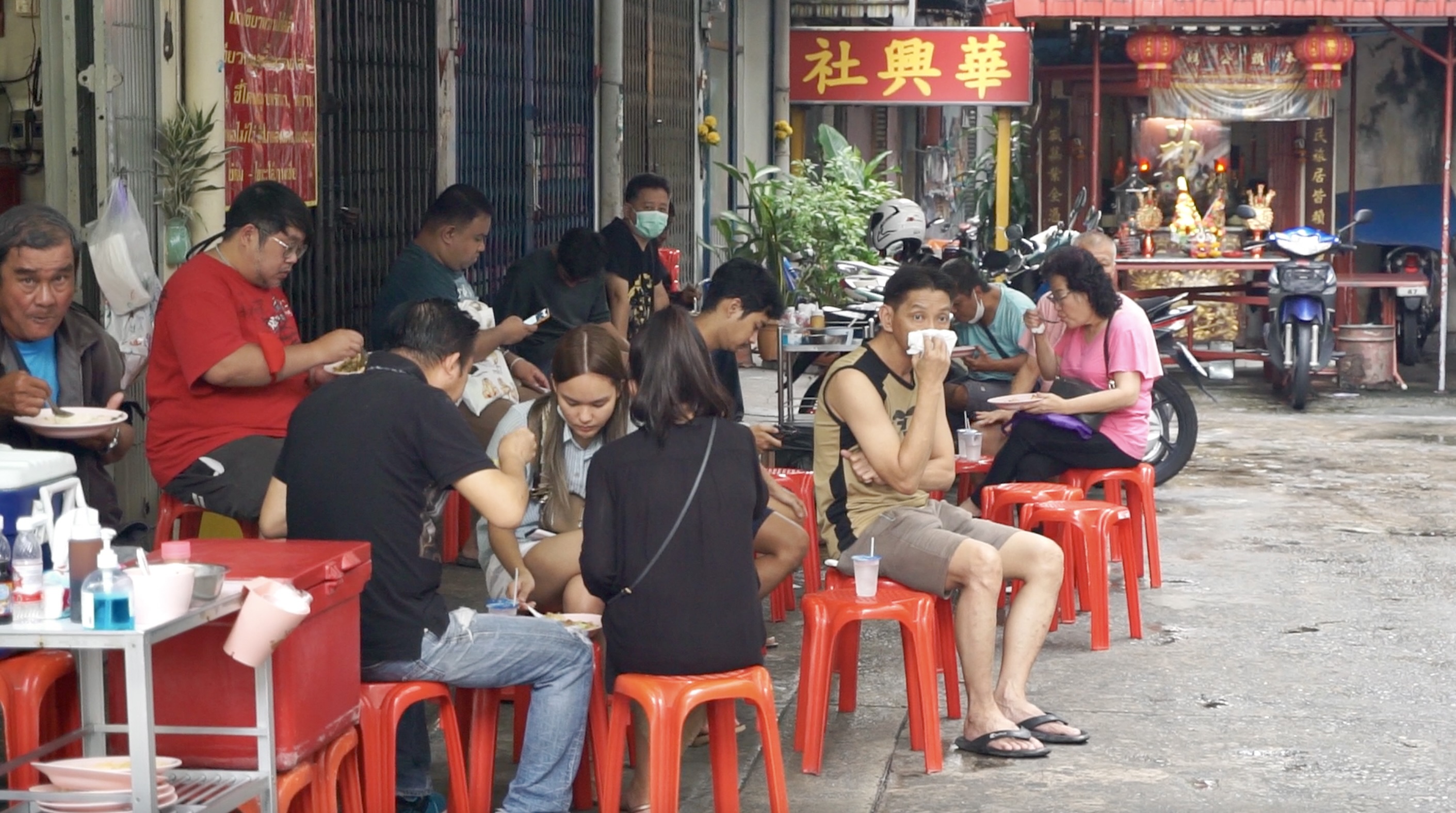 On our final day in Bangkok, we visited Yaowarat (Bangkok's Chinatown) to try the world-famous curry rice by Jek Pui that became even more popular after being featured in Volume 1 of Netflix's Street Food series. They have since moved to an enclosed area that's a block away from the street corner where they used to be. We arrived around 4:00 pm and were pleased to see a couple of their iconic red stools vacant.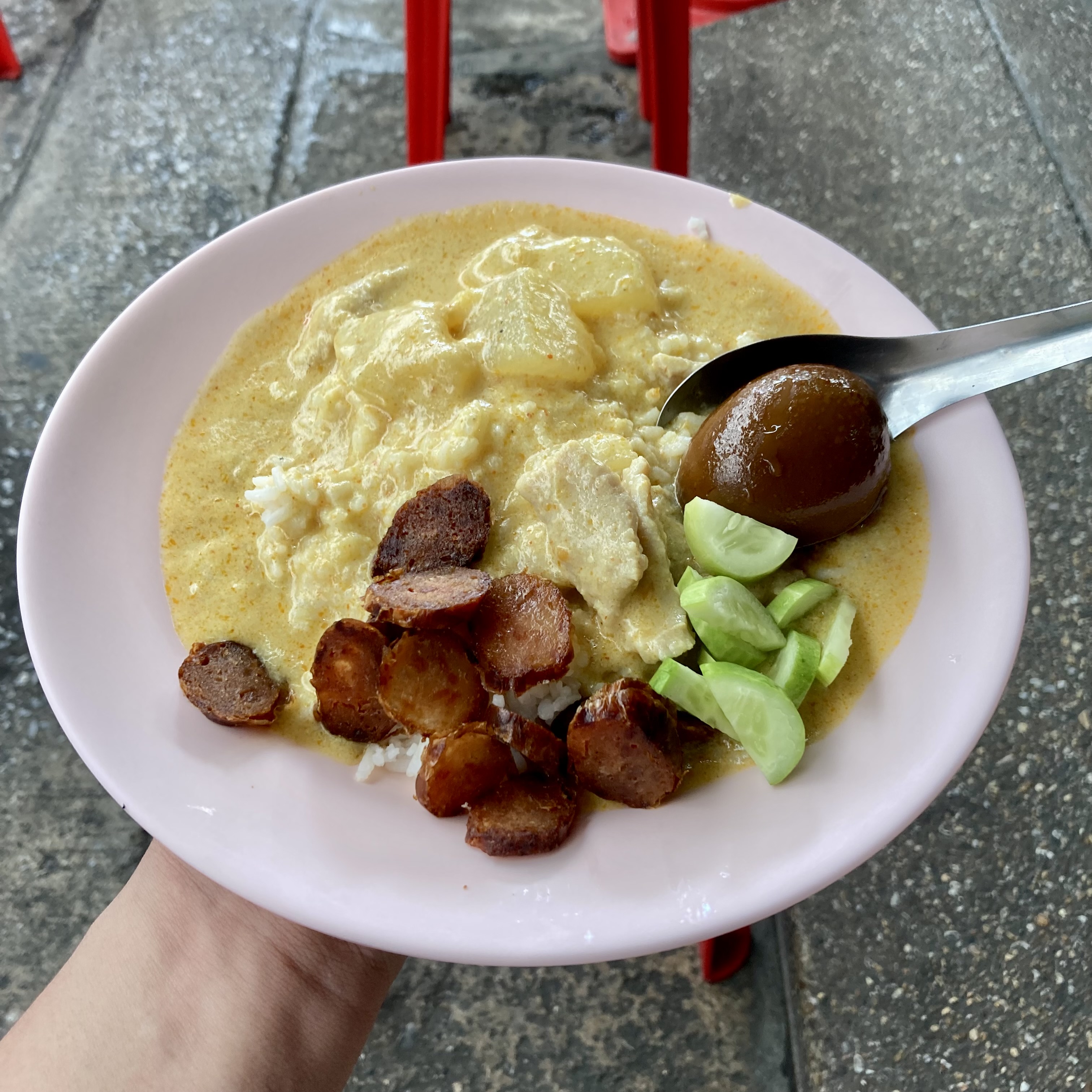 Yellow Curry with Pork (THB 50.00) is their bestseller. I requested to add a tea egg and Chinese sausage to it as recommended by the internet. The curry sauce has a very mild spice to it, is very creamy, and a little bit sweet and rich because of the coconut milk. The pork was very tender, the cucumbers added some crunch and freshness while the dried sausages added more texture to each rich spoonful of goodness. I will come back here, I promise.
The Verdict: 5.0 / 5.0
Address: 25 Mangkon Rd, Pom Prap, Pom Prap Sattru Phai, Bangkok 10100, Thailand
Operating Hours: 3:00 PM – 7:00 PM
---
Nai Ek Roll Noodle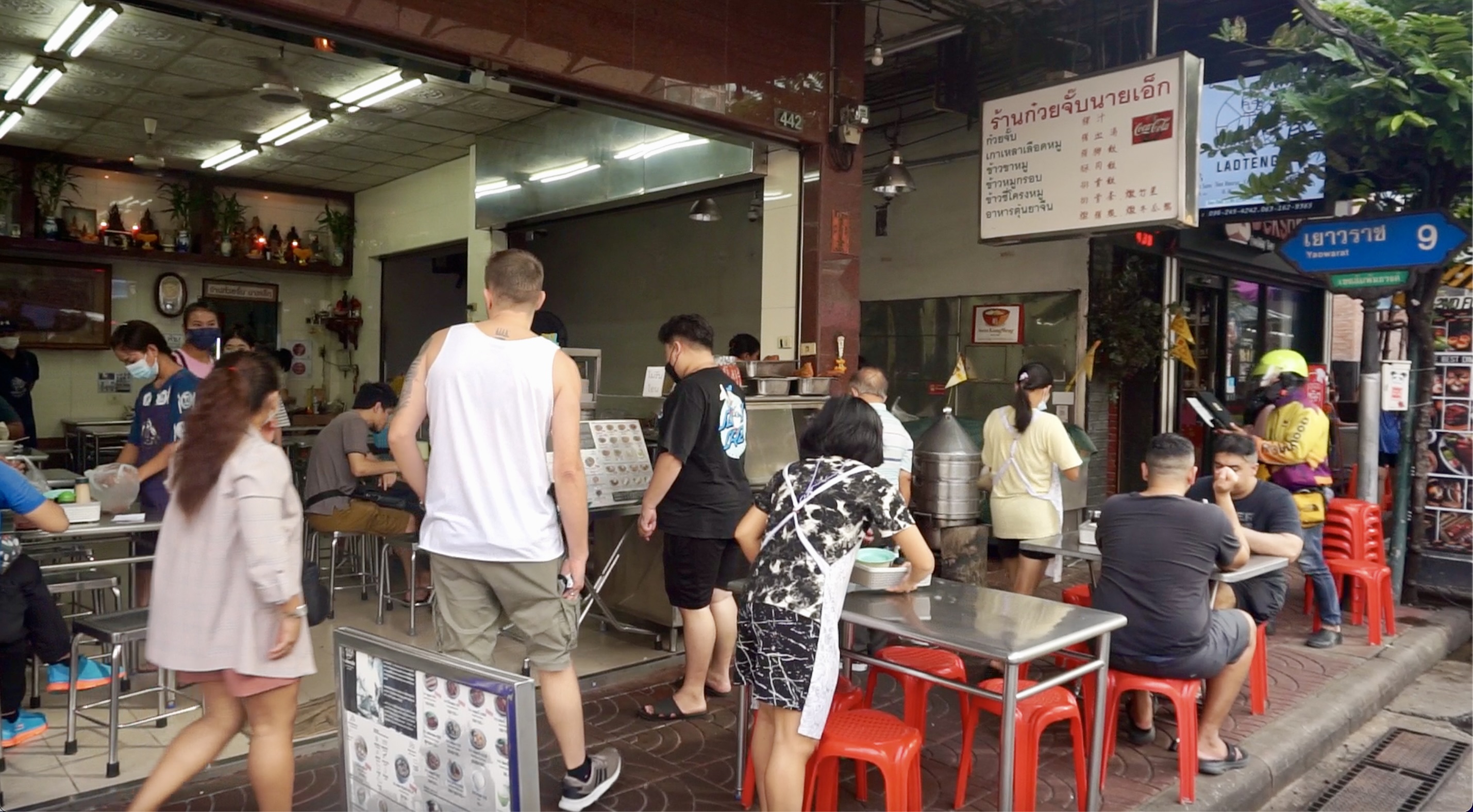 We ended our food trip with one of the most unique noodle soups I've ever tried. Nai Ek is another Michelin Bib Gourmand awardee among a few others here in Yaowarat. We didn't wait that long before we got seated but the restaurant was chaotic the entire time we were there.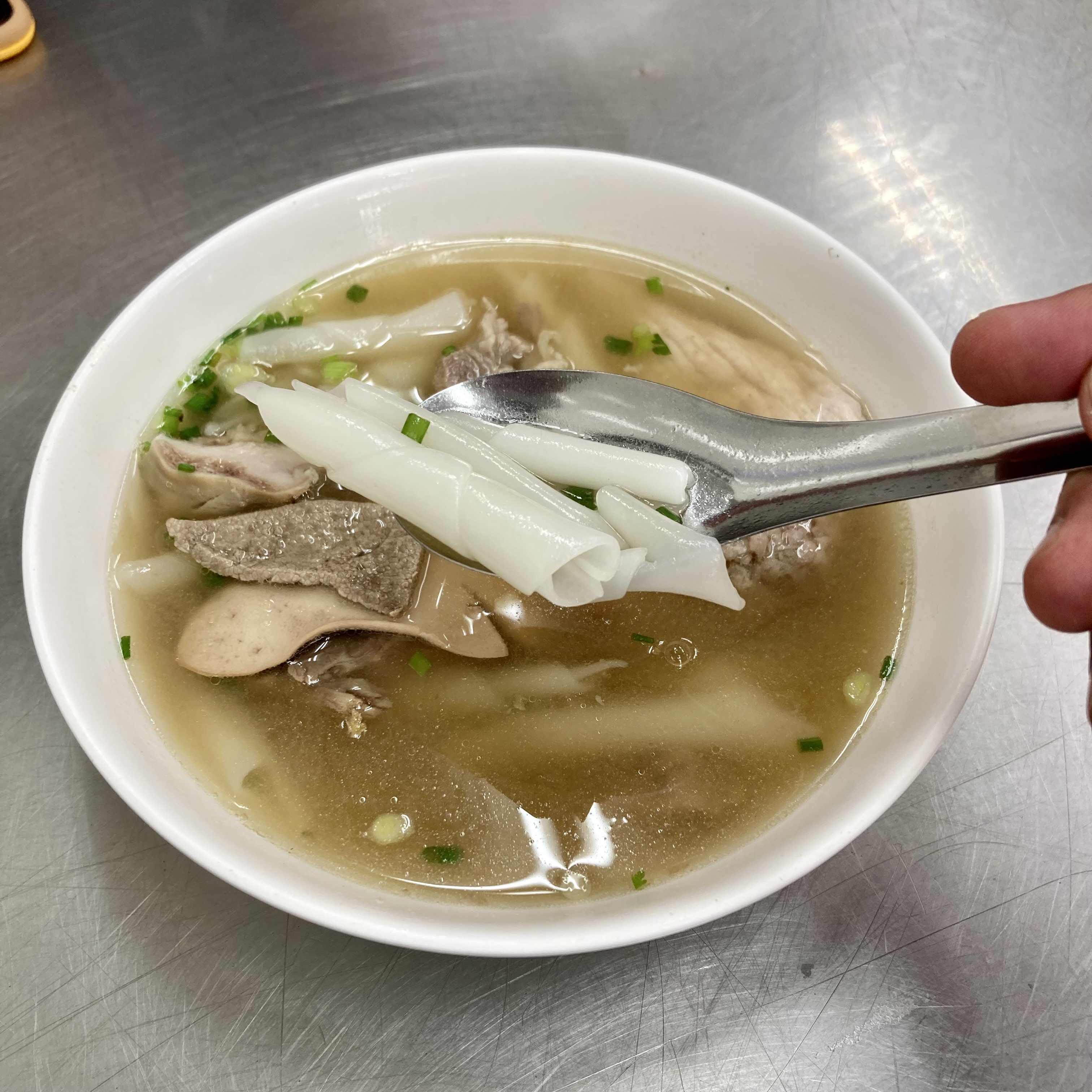 These rolled rice noodles looked so pretty and fit perfectly in the spoon when scooped. They're hidden underneath generous amounts of crispy fried pork, minced pork, spring onions, pork slices, and some innards that I am not really familiar with. More than the quirky-looking rolls, it's the peppery broth that makes this dish wonderful. Combine them all together and you have a party in your mouth. One big bowl costs THB 100.00.
The Verdict: 5.0 / 5.0
Address: 442 ซอย 9 Samphanthawong, Bangkok 10100, Thailand
Operating Hours: 8:00 AM – 12:00 AM
---
Subscribe to The Daily Phil on YouTube for more Food and Travel videos.
Like us on Facebook to get real-time updates on where The Daily Phil is headed next.
This is The Daily Phil, conquering the world, one country at a time, using a Filipino passport.
Until next time, Travel Now, Bills Later!